Davis Reproductions Ballock Dagger
Original: French or Flemish, 15th century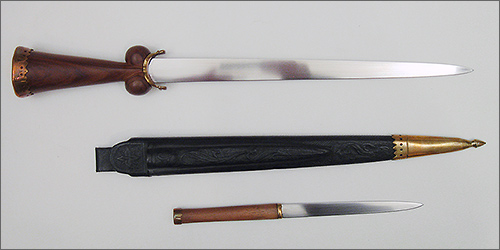 The
ballock dagger
's hilt is as practical as it is provocative, with the "lobes" providing a means of stopping the hand from sliding onto the blade during a thrust. A form that was popular for centuries, it has seen many variations to its construction and decoration. In a time where religion ruled much of Europe, some daggers of the Middle Ages and Renaissance, including ballock daggers, featured religious decorations. One such piece, housed in Paris'
Musée de l'Armée
, has a pommel cap of a copper alloy decorated with an image of the crowned Virgin Mary, holding an infant Christ. That pommel cap served as the basic inspiration for this piece, and is combined with a grip and blade more typical of the time and not an exact copy of the original 15th century dagger's features. To make a set, a by-knife was created.
On both the dagger and by-knife, Josh Davis paired bronze with wood. The pommel cap of the dagger features the image of Virgin and child, while the pommel cap of the by-knife has a gothic "
C
". Both pieces have sharp steel blades.
The knife and dagger are housed in a wood-cored scabbard covered with green leather. The leather has been intricately tooled with floral motifs and patterns of lines. A leather loop on the back will secure it to a belt.
See our
hands-on review
for more information on this dagger.
Ballock Dagger:
Overall length: 14.625
Weight: 7 ounces
Width of guard: 1.25"
Blade: 10.5" long; .75" wide tapering to .375"
Grip and pommel: 4.25"
By-knife:
Overall length: 8.125
Weight: 1 ounce
Width of bolster: .5"
Blade: 4.5" long; .5" wide tapering to .375"
Grip and pommel: 3.5"
Maker:
Davis Reproductions
of Minneapolis, Minnesota.