Davis Reproductions Ballock Dagger and By-Knife


A hands-on review by Chad Arnow



Introduction


Ballock daggers are a provocative form, which may have accounted for some of their popularity throughout the Middle Ages. Some examples are extremely suggestive in their anatomical details, while others are more stylized. Some possess religious motives that are seemingly at odds with the shape of the grip. The Middle Ages, though, were a contradiction in many ways: great learning flourished alongside pervasive illiteracy, ideals of chivalry coexisted with butchery on and off the battlefield, and the formation of modern legal systems combatted old systems, and in some cases, general lawlessness in certain areas. With that in mind, perhaps it should not be surprising to see religious iconography combined with forms such as the ballock dagger.

In the Musée de l'Armée in Paris, there is a 15th century dagger of possible French or Flemish origin. Its pommel cap features a beautiful rendering of the Virgin Mary and an infant Jesus. Both figures are haloed; Jesus holds an orb, while his crowned mother holds him. The backdrop is a series of arches and possibly rays of light to frame them in splendor. It is a beautiful depiction of these biblical figures, combined with a suggestive form on a weapon capable of killing. Was it mere decoration, or did it serve as a talisman for its wielder, giving him hope that Mother and Child would aid him against his enemies? Would that we could know.



Overview


Davis Reproductions is a newer entry into the ranks of craftsmen making period replicas. Run by Josh Davis, whose degree is in medieval studies (with a minor in Latin), it focuses on small weapons and on armour of the 14th and 15th centuries. Josh studied abroad in the UK at both Cambridge and Oxford Universities with courses on War and Society in Medieval Europe and in Medieval and Renaissance Studies. Josh has also worked part-time at Arms & Armor in Minneapolis, where he's helped craft their fine production and custom pieces.

The pommel cap of the dagger was the starting point for this project. Pictures of the pommel cap are more plentiful than pictures of the whole dagger. Therefore, the dagger itself is representative of ballock daggers of the period rather than being a strict copy of the Parisian piece. I wanted to add a by-knife in the whittle-tang style (rather than the more-typical scale-tang construction) and gave Josh free reign to create something appropriate. Josh provided many in-progress pictures and was communicative throughout the commission. In short, it was a pleasure to deal with him.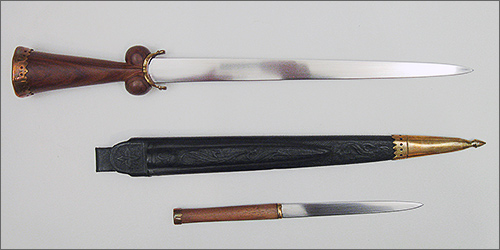 Ballock Dagger Measurements and Specifications:
| | |
| --- | --- |
| Weight: | 7 ounces |
| Overall length: | 14 5/8 inches |
| Blade length: | 10 1/2 inches |
| Blade width: | 3/4 inch at base, tapering to 3/8 inch |
| Grip length: | 4 1/4 inches |
| Guard width: | 1 1/4 inches |
By-knife Measurements and Specifications:
| | |
| --- | --- |
| Weight: | 1 ounce |
| Overall length: | 8 1/8inches |
| Blade length: | 4 5/8 inches |
| Blade width: | 7/16 inch at base, tapering to 5/16 inch |
| Grip length: | 3 1/2 inches |
| Bolster width: | 1/2 inch |

Replica created by Davis Reproductions of Minneapolis, Minnesota.



Handling Characteristics


A good dagger should be able to move swiftly while being controlled easily; it should especially excel at thrusting motions with the point. This ballock dagger meets those criteria easily. The grip is comfortable in either the point-up or point-down (icepick) grip. At seven ounces in weight, the dagger is certainly light enough to be quick while the stout blade (about .2 inches thick at the base) gives it a solid feel in-hand. The ballocks themselves serve a practical purpose at the base of the grip: providing a means of stopping the hand from sliding onto the sharp blade in a hard thrust.

The by-knife is a featherweight in the hand, but is by no means fragile. The grip, while narrow, provides solid purchase for the hand. It would work well for eating and light duty tasks around the camp.



Fit and Finish


The dagger, by-knife, and scabbard are all well-constructed; there are no unsightly or unusual gaps and great attention to detail must have been given during their construction and assembly. The bronze used for the fittings has a little higher copper content than much commercially available bronze and patinates with pleasing reddish-brown shades. The bronze parts possess a level of polish that is attractive and rich-looking without possessing an artificial modern mirror shine. Both pieces fit snugly in the scabbard.

The steel blades on the dagger and knife are both satin-finished and sharp, and show no stray grind or forging marks. The wooden grips of both pieces are not of the same type of tree, but complement each other nicely. The grain on the dagger's grip is especially beautiful to behold.

The pommel cap on the dagger is very cleanly executed, though its carving of the Madonna and child is not as deep and three dimensional as on the original. The style and depth of engraving, though, is exactly in keeping with several other pieces of the era. The decoration on the knife's pommel cap is a stylized gothic "C" on a cross-hatched background, added by Josh as a nod to my first name.

The scabbard completes the package nicely. Finished in a rich dark green color, it possesses floral and vine decorations on a dimpled background, juxtaposed with sections of diagonal lines. The chape has points and punched holes that match the dagger's pommel cap, while the finial's acorn shape ties in with the botanical themes of the scabbard. These little touches serve to give the set a nice visual cohesiveness.



Conclusion


This set was the first example of work from Davis Reproductions that I've seen in person. They were impressive then, and remain so now. The image of Madonna and child is iconic and is a nod to the Paris dagger without being a slavish copy of it. The little details throughout the rest of the set really capture the flair of the era in an artistically assembled, period appropriate set that will remain in my collection for a long time.





About the Author
Chad Arnow is a classical musician from the greater Cincinnati area and has had an interest in military history for many years. Though his collecting tends to focus on European weapons and armour of the High Middle Ages, he enjoys swords, knives and armour from many eras.

Acknowledgements
Photographer: Chad Arnow