Tod's Stuff Late 14th Century Eating Knife
Original: 14th century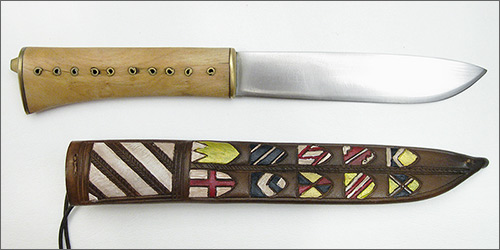 Whether used around the house or camp, in the course of plying one's trade, for eating, or for self-defense, knives of all forms hung at the belts of men throughout the Middle Ages. Ubiquitous and useful, they were also canvases for decoration. Indeed, many knives and their sheaths show a variety decorative styles and techniques.
This knife, made by Tod's Stuff of the United Kingdom, draws inspiration from several River Thames finds now housed in the
The Museum of London
. The blade, with its line of inlaid brass
X
s, is mounted in a lace wood (a species of maple) grip with decorative tubular brass rivets. The grip is finished with brass hilt and butt plates with a raised peen block.
The sheath is patterned after the remains of one documented in the book
Knives and Scabbards
. Dated to the late 14th century, its surface is tooled with a variety of heraldic shields. These shields have been painted, lending a splash of color to the sheath.
Overall length: 10"
Weight: .29 pounds
Blade: 5.125" long; 1" wide tapering to 1"
Grip and pommel: 4.875"
Maker:
Tod's Stuff
of Oxford, United Kingdom.