The Collection Gallery of Nathan Robinson
The gallery and myArmoury.com were built and are being presented by myself, Nathan Robinson, a private collector of reproduction arms and armour. I'm just a casual collector whose passion for something grew a bit out of control.
My dedication to this hobby began in the late 1980s when I started participating in living history reenactment. From that introduction came a study of the way people lived and struggled in their
day-to-day
lives. Even now, my interests extend well beyond just the study of arms and warfare.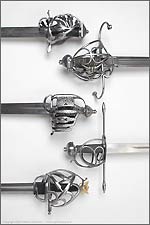 The collecting of reproduction wares started a few years later. Things moved quickly and I soon managed to gather hundreds of various items including historical accoutrements, period clothing, a large library of books, and many other related items. Each piece has lent itself to its careful study and use, causing the collector to eclipse the practitioner.
In its current state, much of the collection consists of European medieval and renaissance arms and armour. It is these pieces that I have chosen to show here. Other time periods and cultures are gaining interest within me and may soon grow into new acquisitions.
I'm no longer displaying my collection within my home, so I created this site to share this interest with others. In many ways, I can use this site to try to justify owning all these things and merely keeping them in storage. While only a portion of the collection resides within this on-line gallery, I will add more pieces as time allows.
I can be contacted at my
profile page
.

Show my complete collection on one page

Return to the index of collections