Tod's Stuff Stag Bauernwehr and By-knives
Original: Circa 1450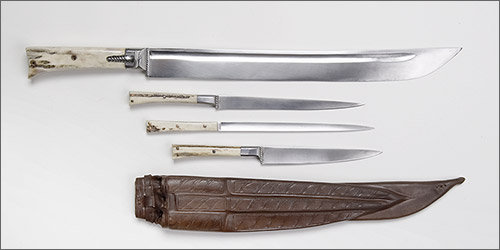 Perhaps the most common civilian bladed implements found in the medieval period were those that developed from domestic tools designed to function equally well as weapons. Having a great variety of form, these knives have many terms used to describe them including
hauswehr
("house weapon") and
bauernwehr
("peasant's weapon"). Their general form resembles large butcher knives, having single-edged blades and exposed tangs with grips composed of two scales usually of wood, antler, horn, or similar material.
Contemporary art of the fifteenth century often shows these knives carried in a leather scabbard having pockets for two or three smaller accompanying knives or prickers. Later period examples can be found with a host of other implements including sharpeners, skewers, and even forks or saws. These sheathed knife sets are frequently called
woodknives
or
trousse de chasse
indicating a set of tools for the hunt. Such styles often have a wide blade profile that expands towards a squared-off tip. The edges are robust like a chisel to facilitate the cutting of bone and sinew. The smaller by-knives would be used for skinning and dressing game or would serve as eating knives.
Shown here is a set consisting of four separate items that includes a large
bauernwehr
, two smaller knives, and a pricker. Each piece has scales made of antler secured to their tangs with copper rivets. The whole set fits within a scabbard made from multiple layers of leather, stitched up the back, and decorated with incised lines in a historical motif. A leather thong is laced through its back to allow it to be suspended from a belt.
The
bauernwehr
is of the typical form described above with its stout cleaver-like blade and thick spine. A wide fuller extends almost to its point. A large bolster rests at the bottom of the grip and through it is riveted a single projection called a
nagel
on the knuckle side that serves as a guard for the hand. A decorative roped extension runs about an inch from the base of the
nagel
up the grip. This is a common feature found on knives of this kind and can be seen on other hunting weapons even centuries later.
The shorter of the two by-knives has a wide and rounded profile suitable for skinning and skiving. The longer knife is of a more acutely tapered shape and extends to a very sharp point. Both knives have bolsters with a roped edge detail to match the
bauernwehr
. The pricker is four-sided with two hollow-ground faces and has been left nearly fully hard to allow it to be used as a sharpening steel for the other blades.
Bauernwehr:
Overall length: 18.375"
Weight: 1.1 pounds
Blade: 13.25" long; 1.25" wide at the base
Other items:
Longer by-knife: Overall length: 10" / Blade length: 6.25"
Shorter by-knife: Overall length: 9" / Blade length: 5.125"
Pricker: Overall length: 9.75" / Blade length: 6.75"
Maker:
Tod's Stuff
of Oxford, United Kingdom.

This set is inspired by many surviving examples as well as the one featured in this historical painting.