Arms & Armor Custom Swiss Saber
Original: Switzerland, circa 1530, The Wallace Collection, London
The sixteenth century saw a great number of longswords used throughout most of Western Europe that were mated to varied and complex hilt designs. It is thought that nearly all of these swords originated in Southern Germany or Switzerland, but most surviving samples and those depicted in art are generally of the German style. One defining feature separating the two designs is the cross-section of the bars that form the hilt. The Swiss style is almost always of a circular or diamond cross-section whereas those from Germany have a flattened ribbon section.
Historians call swords in the Swiss style that are mated to single-edged and curved blades
Schweizersäbel
or
Swiss sabers
. Despite their name, these swords can be used in the same manner as straight-edged
German longswords
.
A stunning example dating from around 1530 is a sword (
A489
) housed at
The Wallace Collection
in London attributed to Itelhans Thumysen. Its hilt is of writhen design and its blade is single-edged and slightly curved.
The sword shown here, like the Wallace Collection antique that inspires it, has a distinctive hilt with decidedly organic features. The pommel is twisted and fig-shaped and has the appearance of bundled roots or twigs. The knuckle-guard, side-guard, and connecting S-shaped guard are all of rhomboidal section and are created in a manner as to resemble branches. Splayed-out knobs similar in form to the pommel are found at each end of the recurved cross-guard and a smaller version terminates a bar projecting at a right-angle from one of the finger-rings. A single looped bar forms the back-guard. Unique to these Swiss hilts is the peculiar design of the side ring. It is a
trefoil
shape made to resemble a stylized clover.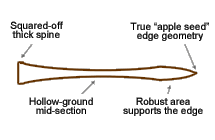 The blade geometry is very complex. In the most basic terms, it's a single-edged hollow-ground design with a sharpened false edge and a bit of curve; however, this doesn't adequately describe its complexity. It is visually divided into "thirds" along its length, having a thickened squared section at the first third nearest the hilt and a sharpened false edge at the last third.
The spine is very stout and leads into a deeply hollow-ground center area that then blends into a robust swelling that supports the edge. The actual edge is a true "apple seed" section without a secondary bevel and is very sharp.
The bottle-shaped grip is roughly divided in half with a central riser. Another riser is found at each end. Fine cord binds the hardwood core and it is wrapped in black leather. Attention was taken to mimic the style of the antique's grip appearance.
Overall length: 49.25"
Weight: 3.7 pounds
Width of guard: 8"
Blade: 40" long; 1.5" wide tapering to .75"
Grip and pommel: 8.75" long
Point of Balance (PoB): 5.5" from guard
Center of Percussion (CoP): ~24.75" from guard
Maker:
Arms & Armor
of Minnesota.

This piece is closely based on an original located in The Wallace Collection, London (Cat. No. A.489).