---
Lutel 10006 Two-Handed "Swiss" Saber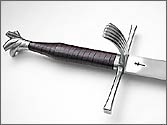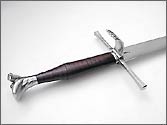 Click images for larger versions and more info



I have owned three of these swords. I had intended to make one into a compound-hilted Swiss saber, but I can no longer justify the cost. This is my last one and I'm selling it to help fund a new camera purchase.



Southern Germany or Switzerland — Circa 1490-1530



This large Swiss saber has a single-edged slightly curved blade, flared rectangular quillons, writhen pommel, and a large shell guard for added hand protection. Dark brown leather two-handed grip and burnished steel fittings complete the hilt. The blade is sharp from the Lutel factory.

Overall length: 46"
Weight: 3.4 pounds
Width of guard: 8"
Blade: 37" long; 1.625" wide tapering to 1"
Blade curvature: .625"
Grip and pommel: 9"
Point of Balance (PoB): 6" from guard
Center of Percussion (CoP): ~23" from guard

Includes a hanger, but not a scabbard. I'll have to find the hanger so please verify with me. See My Collection Page to see photos of this sword.

Very good condition. I like this weapon a lot. Heck, I've had three of them. I must like them. Current exchange rate is around $360 for a new one, excluding shipping and wire transfer fees to Lutel in the Czech Republic. All things said and done, you'd be out $400-$450 and have to wait 3-6 months to get a sword.



ASKING PRICE: $340

+ Shipping

I prefer PayPal. Please add 3% mark-up to offset PayPal fees.

Questions or comments can be Private Messaged to me here on myArmoury.com or via email.