---



Tod's Workshop Landsknecht Dagger


Original: Circa 1510-20

I saw on an antique Landsknecht dagger, found at the Hermann Historica auction house and had Tod from Tod's Workshop create a dagger based on it. I've had this piece for years but it's time for me to raise some money for other parts of life.





The piece featured here has a hand-forged hollow-ground flattened diamond cross-section. It's a very substantial blade, having a spine that is 8mm thick nearest the hilt. The grip is made of hand-turned pear tree wood that has been soaked in linseed oil. The horizontal ribbing gives the appearance of thick stacked rings. It has been left uncovered and is extremely comfortable in the hand and very attractive.

The guard has been cut and filed from a solid piece of brass. It has a single side ring with deep roped detail and two smaller quillons branching back from it. The pommel cap has scalloped edges rolled over the grip's end and is etched with fine lines emanating from the tang button.

The scabbard is made from two layers of leather and is dyed a dark muted red color. Its fittings are designed to complement the dagger's features and have roped edge details and a decorative roped ball as a finial. A single ring is attached to the back as a mounting point for wearing.



Measurements and Specifications:



Overall length: 13.625"
Weight: 7 ounces
Blade: 8.625" long; 1.125" wide tapering to .5"
Hilt length: 5"

See my collection page for more details of this piece.




Tod now makes daggers like this one but the hilts are cast from molds of this original creation. The current pricing is quite a bit higher (around $670 US) than what I'm asking here and I paid a lot more. This one was hand-crafted from a piece of brass rather than cast, is more detailed, and has a thick hollow-ground blade with a high-grade polished.






ASKING PRICE: $580

or best offer + shipping

I prefer PayPal. Add 3% mark-up to offset PayPal fee.

Questions or comments can be Private Messaged to me here on myArmoury.com or via email.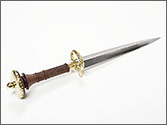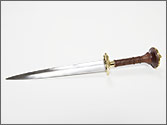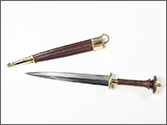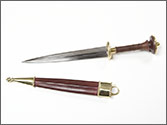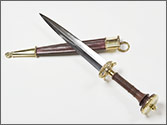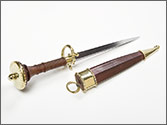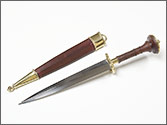 This piece was based on this antique dagger, circa 1510-20: