---



Stag-gripped Hunting Sword


Original: German, 1680-1750

This hunting sword is in the style of the late 17th to early 18th century. It is most likely a quality 19th century historismus example, possibly made with an older blade.





In the Victorian era, many forms of art were created that drew their inspiration from recreating historical styles or recreating the work of past artists. Many Victorian gentleman had dens full of recreated masterpiece-quality items in the style of medieval and later period arms and armour.

This sword is a large-proportioned example with a strong double-edged blade struck with early Solingen running wolf markings on each side. The steel-mounted hilt has a lovely S-shape guard with a clamshell and large iron studs on the stag grips.

The running wolf marking is unusual in that it does not fit into this sword style's period. It could indicate an older blade was reused or is just a straight-out mark of forgery. For hundreds of years, this mark was added to blades by forgers as a means to associate them with a blademaker known for high quality work.

It weighs 2.1 pounds, is 34.125" long with a 28.5" long blade. The assembly is strong and sturdy with no wiggles or looseness. The stag grip slabs are beautiful and the grip fits wonderfully in the hand. Balance and dynamics are perfectly suited for this type of weapon. It's an excellent example.




ASKING PRICE: $1600

or best offer + shipping

I prefer PayPal. Add 3.5% mark-up to offset PayPal fee if not paid through "friends and family".

Questions or comments can be Private Messaged to me here on myArmoury.com or via email.





Detailed photos below:






Click images for full-sized photographs




Here are the passau ("running wolf") marks on the blade:






Other antiques that are of a similar style: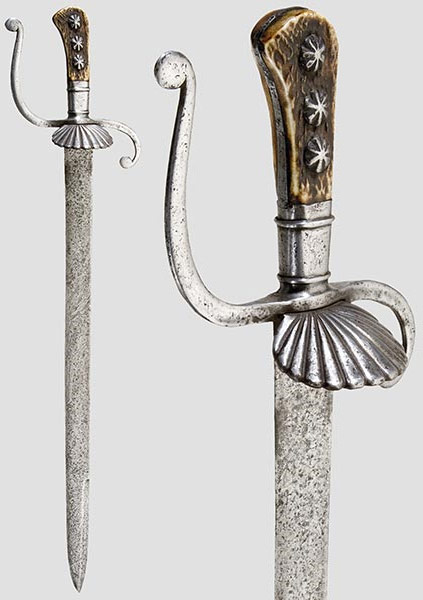 A German hunting sword, middle of the 17th century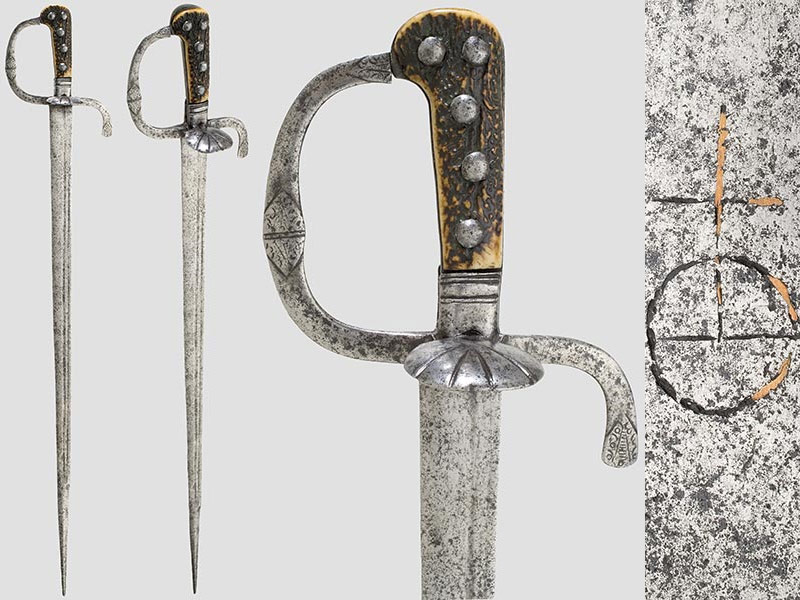 German hunting sword, 2nd half of the 17th century