---

Hello,
I have for sale my Michael Pikula Long Seax. From what I have gathered through talking with Mr. Pikula and another forum member is that this piece along with 1 or 2 others, Michael couldn't remember, were made at the beginning of his blade making career. The blades and hilt are similar between the 3 but not exact copies.
I did a Product review when I first received it almost 2 years ago. Here is the link to that... http://myArmoury.com/talk/viewtopic.php?t=293...highlight=



Selling for $900 shipped in lower 48 states

PayPal only


Petersen Type G hilt
Weight - 2 lb. 4.9 oz
Length - 36 5/8"
Blade Length - 31 1/8"
Blade Width at Hilt - 2 1/32" Stays about that width till around 8" from tip where it starts to gradually fall, slowly at first.
POB - 7" from Hilt
Grip Length - 3 1/4"
Spine of Blade - 4.16mm to 4.36mm varies slightly till about 7" from tip, then it narrows to tip.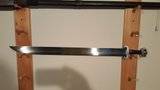 Next to a Albion Squire Line and a Windlass Ulfberht.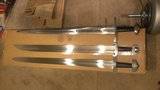 Link to more pictures...
http://smg.photobucket.com/user/Spitfire9/lib...amp;page=1

Spitfire9 at cox.net is email address

Sword is as it came to me.
Not many trades considered. Would have to be Albion or higher end Japanese stuff. Maybe partial trade for Hanwei Yari or Naginata.