---



Musashi Bamboo Katana

. Has some scratching on the blade from cutting and a dent in the top of the saya.

$70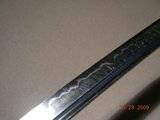 Raptors: Moroha Zukuri and Nanbokucho

. (Pictured two on the right). I've had rusting issues with these lately. It's something to do with the saya because if I take them out the blades no longer continue to rust. I'm trying to keep most of it off but there might be a little on there, especially since they'll be in the sayas during shipping.

$200 for each

.





Windlass 15th Century Longsword

.

$175

. (Pictured on the left)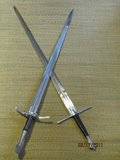 I prefer to ship within the U.S. Paypal, cash, check, money order are all fine.

$15 shipping for each

. Always open to trades, so go ahead and offer anything up.