Tod's Stuff 15th Century Eating Knife


A hands-on review by Chad Arnow



Introduction


Modern weapon smiths that create historical replicas face a daunting choice: doggedly copy period pieces or create ones with artistic sensibilities injected into the project?1 The answer to this question necessarily varies by maker and sometimes by project. Some find immense satisfaction in replicating period pieces exactly while others prefer to allow their own creativity and design sensibilities to affect the project's design. Interesting pieces can also result by taking elements from various surviving specimens and combining them into a piece that, while having features that are individually correct for a period, is a new and more fresh take on what history has left us.

The knife that is the subject of this review is an example of the latter idea: its components are all found on historical pieces, just not together. The blade shape was fairly common in the late 14th century and through the 15th century according to the River Thames finds. Inlaying a maker's mark, as has been done here in brass, was seen in the 13th through the 15th centuries and beyond. The grouping of four rivets and/or pins on a grip is seen on several 15th century knife grips while the style of bolster is appropriate for the 14th and 15th centuries. One of the knife's more unique features, a tang fully enclosed in a metal frame, can be seen on several examples, including a Thames find dated to 1450-1500. While this last knife uses silver elements and scales of jet, the overall effect is very similar to this knife.



The result is a knife that is far from a replica of a period piece, yet all its elements are correct for the 15th century and it would not be out of place in that time period. In this way, the customer's need for a period appropriate piece is satisfied while allowing creativity to shine in the selection of elements used.



Overview


Leo Todeschini, known to many simply as Tod, is a maker who makes both extremely accurate replica commissions and pieces that are amalgams of historical pieces through his company Tod's Stuff. Based in Oxford in the United Kingdom, he produces knives, daggers, swords, scabbards, impact weapons, and a large assortment of reenactment goods through his various ventures.

Because he does many shows and events throughout the year (and to satisfy impulse buyers like me among his clientele), Tod always has stock on hand available for immediate sale. Impressed by a similar knife Tod made for his stock on hand, I commissioned a slightly different version as a custom piece. The time from order to delivery was very reasonable and Tod was always prompt and helpful in his communications.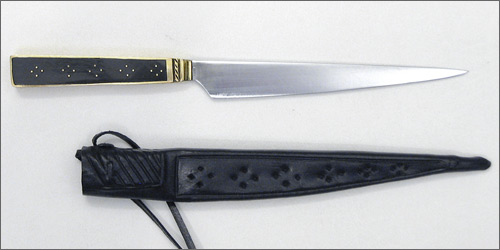 Measurements and Specifications:
| | |
| --- | --- |
| Weight: | 2.25 ounces |
| Overall length: | 8 inches |
| Blade length: | 4 7/8 inches |
| Blade width: | 1 3/8 inches at base, tapering to 1/4 inch |
| Grip length: | 3 1/8 inches |

Replica created by Tod's Stuff of Oxford, United Kingdom.



Handling Characteristics


The decoration and size of this knife mark it as a knife meant almost entirely for eating, rather than a piece meant for general use around the house, shop, or camp. The size and shape of the grip fit nicely and securely in the hand and would give the knife good control when cutting food at the table. Choking up and/or placing a finger on the blade's spine are options for getting more leverage when cutting. While the horn and brass may become slick if juices or sauces get onto it, the brass pins will help provide secure purchase so the knife doesn't become dangerous to its wielder.



Fit and Finish


Having owned a number of Tod's custom items, I can say with some confidence that this is among the best finished of the pieces I've seen. The blade, while possessing some file marks and grind marks, is attractively (though not perfectly) finished. Its look is at once handsome and historical without losing the appearance of a handmade item. At my request, Tod inlaid his mark—a circle broken into four segments—in brass; the inlay is cleanly done and very attractive. The only flaw I can find with the blade is that the blade's distal taper seems to be taken more from one side of the blade than the other, making it appear to be not entirely straight or even when viewing the blade's spine. I've seen this on handmade knives and daggers, period pieces, replicas, and modern knives from numerous makers, and I'd imagine maintaining an even rate of taper on both sides of the blade while forging and/or grinding is difficult. I only mention the asymmetry here because modern life has made it easy to expect perfection and perfect symmetry, things not often found on extant pieces or well-made replicas such as this one.

The hilt itself is quite beautiful without being overly perfect and modern-looking. The shaping of all the brass was obviously done by hand, not by casting. The many components that make up the hilt—two horn scales, forty brass pins, the brass box that encloses the tang and the brass bolster—are all nicely made and fitted cleanly to each other. The various filed decorations are obviously done by hand and are executed cleanly and with an authentic-looking period character. The soldering of the brass frame to the bolster is very cleanly done with barely any excess solder showing. All in all, the hilt is very well executed and quite beautiful.

As with all of Tod's knives, this one comes with a nice sheath made of two layers of leather. It fits the blade and hilt tightly without making it difficult to draw the knife. It is tooled, front and back, with patterns of lines. Down the blade section of the sheath's front, groups of punched dots imitate the pins on the grip. A long leather thong is laced through the top to allow it to be tied to a belt.



Conclusion


I've owned and reviewed a number of items from Tod's Stuff and I find myself sometimes struggling to find new ways to say the same things. Tod's items, in my experience, are always well-made and attractive. They feature a hand-made look that is period correct but not sloppy and they are made to last a lifetime or more. This elegant knife fits those descriptors in every way. A 15th century nobleman would be as proud to own this knife as this 21st century middleclass man is.





About the Author
Chad Arnow is a classical musician from the greater Cincinnati area and has had an interest in military history for many years. Though his collecting tends to focus on European weapons and armour of the High Middle Ages, he enjoys swords, knives and armour from many eras.

Notes
1. This question intrigues me personally. As a classical musician, we face similar questions each day: do we play a Beethoven symphony in the way in which modern scholarship says it would have been played or do we harness the power of the modern symphony orchestra and our 21st century notions of music to create something fresh?

Sources
Knives and Scabbards (Medieval Finds from Excavations in London), by J. Cowgill, M. de Neergaard, N. Griffiths
British Cutlery: An Illustrated History of Design, Evolution and Use, by Peter Brown (Editor)

Acknowledgements
Photographer: Chad Arnow