English Cutler 13th Century Eating Knife
Original: English 1250-1350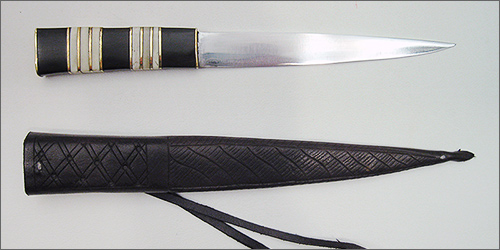 A look at the modern collector knife market will show that grips of stacked materials are popular, providing varieties of color, texture, and interest to this essential knife component. This feature was also present on some knives of the Middle Ages. A surviving knife in
The Museum of London
retains several tin plates hanging loose on its tang; the organic materials that would have surrounded those spacers and filled out the grip have been lost to time. The English Cutler, run by Leo Todeschini of Tod's Stuff, has created a piece inspired by this knife.
This knife features a sharp steel blade paired with a grip composed of nineteen separate pieces. Three pieces of dark horn make up most of the grip with brass spacers (instead of tin) separating the horn pieces from pieces of bone, making for a striking contrast. A brass bolster and butt-plate complete the grip. The scabbard is made of two layers of black-dyed leather tooled on the front with a variety of line patterns. It can be tied to a belt via the integrated leather thong.
See our
hands-on review
for more information on this knife.
Overall length: 8.25
Weight: 2.5 ounces
Width of bolster: .75"
Blade: 5.125" long; .625" wide tapering to .325"
Grip and pommel: 3.125"
Maker:
The English Cutler
of the United Kingdom.
This item has been retired from the collection.