Tod's Stuff English Cutler 13th Century Eating Knife


A hands-on review by Chad Arnow



Introduction


Having easy access to eating utensils is something often taken for granted in modern times. They are found in the drawers in our kitchens, are set before us by hosts, and can even be found encased in plastic at fast food restaurants. This ubiquity has not always been the case. In the book Knives and Scabbards by Jane Cowgill, Margrethe de Neergard, and Nick Griffiths, de Neergard notes that "[b]efore the 14th century, only the host or favoured guests would expect to find a knife set before them at meal times. Others had to provide their own or share." In this environment, owning a sturdy, sharp knife was a must. Dedicated eating knives began to be seen in the 14th century, as Neergard describes "the emergence of the 'table knife' as an entity distinct from the multi-purpose knife." The earlier multi-purpose knives saw use at the table and around the house, shop, or camp and had to be robust enough for whatever task was set before them.



Overview


The English Cutler is a shop run by Leo "Tod" Todeschini, specializing in in-stock production (non-custom) items. Tod designs and assembles the items, ensuring they're made with the same care as the custom pieces he sells under the Tod's Stuff banner but with the lower price that comes with production pieces. The English Cutler sells knives, hafted weapons, leather items, and general camp and home items for a complete reenacting setup.

In February 2014, Tod announced a major redesign of The English Cutler's edged weapon line-up, with many old pieces being retired in favor of new, better, and more accurate pieces. Seven eating knives (some with prickers and/or spoons) were among the new offerings. These knives cover the 13th-15th centuries well, with components and features drawn from period knives. Tod takes care to list not only his sources but the date ranges applicable. The knife under review is the second of his 13th century pieces and is an example of an earlier multi-purpose knife, sturdy enough for everyday use while retaining a fine enough edge for carving meat or cutting bread.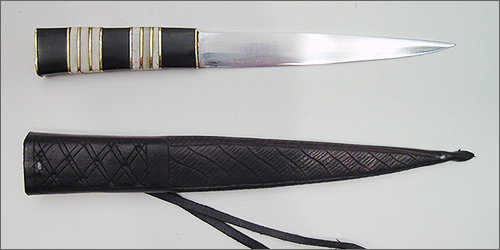 Measurements and Specifications:
| | |
| --- | --- |
| Weight: | 2.5 ounces |
| Overall length: | 8 1/4 inches |
| Blade length: | 5 1/8 inches |
| Blade width: | 5/8 inch at base, tapering to 3/8 inch |
| Grip length: | 3 1/16 inches |
| Bolster width: | 3/4 inch |

Replica created by The English Cutler of the United Kingdom.



Handling Characteristics


When dealing with glossier materials like horn and bone, there is sometimes a worry that the grip will be slick and difficult to hold. That is not the case here. The knife is easy and secure to wield, though its period-correct grip size may require adjustment for people used to modern knife proportions. The stacked components provide just enough tactile contrast to make the knife feel quite comfortable. As with every blade I've seen from Tod and his various enterprises, this one is quite sharp.



Fit and Finish


I've owned and still own a number of pieces by Tod's Stuff and The English Cutler. They all feature a look I've come to love; one of authenticity combined with hand craftsmanship. This piece is no exception; it exhibits the slight irregularities seen in hand crafting. Careful study of antiques shows the same tendencies. It's not a look that can be faked, nor is it a matter of sloppiness or lack of care. It's part art and part knowing when to not overwork something to a standard that is unrealistic for the period.

The blade on this knife shows some evidence of grind marks. The maker's mark is also struck twice: once completely and once partially (I assume an early less successful attempt). Early in my collecting career, this would have bothered me. After having seen period pieces with the same issue, I actually find it oddly endearing.

The grip is tightly fitted together and attractive. The bone and brass spacers did not sit flush with the horn pieces on the back of the grip (as shown in the pictures), but that has since been quickly remedied with a file and some sandpaper. Otherwise, the fit of the 19 pieces that make up the grip was fine.

One of my favorite things about Tod's Stuff custom pieces are the richly decorated scabbards he makes for knives and daggers. To keep the price low, the scabbard on this eating knife features no tooling on its back and the pattern on the front is simpler and less deeply carved than on Tod's custom pieces, though it is no less historical. The fit of scabbard to knife is precise and secure and the scabbard is well constructed overall. A long leather thong secures it to a belt.



Conclusion


The The English Cutler's pieces are designed to be accurate, period-correct visually, and well-constructed; this piece hits all those marks. With its composite grip and decorated scabbard, it's also quite attractive. At a price of £65.00 (just over $100 US) at the time of this writing, it's also competitively priced. Leo Todeschini has created an impressive lineup, giving collectors and reenactors quality pieces with which to fill out their kits.





About the Author
Chad Arnow is a classical musician from the greater Cincinnati area and has had an interest in military history for many years. Though his collecting tends to focus on European weapons and armour of the High Middle Ages, he enjoys swords, knives and armour from many eras.

Sources
Knives and Scabbards (Medieval Finds from Excavations in London), by J. Cowgill, M. de Neergaard, N. Griffiths

Acknowledgements
Photographer: Chad Arnow