That's right, I am selling my

Odinblade Morrigan

. I've spent a few years with her and we have had some grand adventures, but I have another Odinblade being custom crafted for me that is intended to take my Morrigan's place. I have decided to let someone else enjoy this wonderfully beautiful (and lethally functional) piece of John Lundemo sword mastery.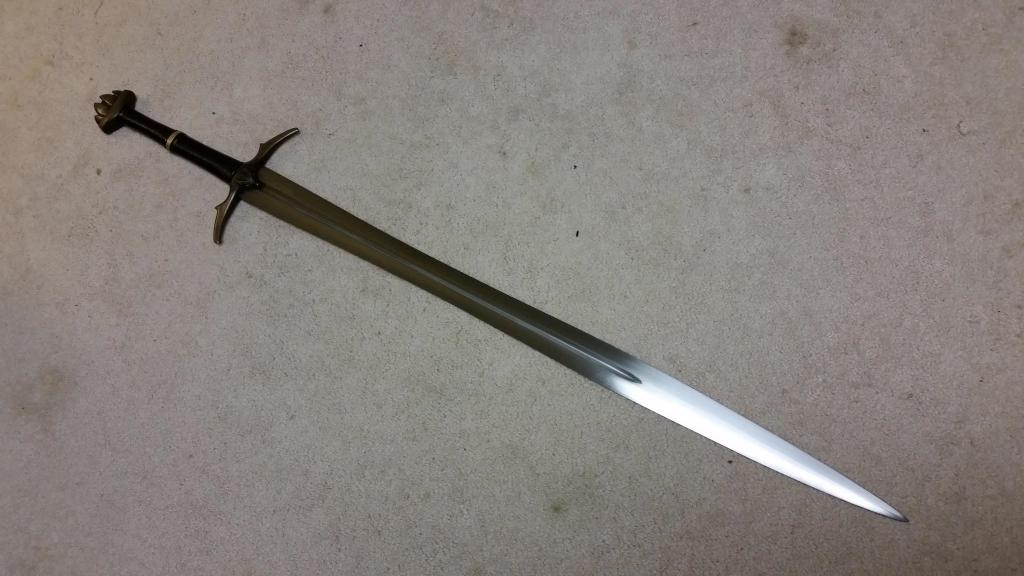 This Morrigan is in excellent condition, it has never been used for cutting. The most wear it has gotten is as part of my Night's Watch cosplay ensemble at DragonCon over the last few years. In fact, the scabbard is signed by JAMES COSMO, who portrays

Lord Commander Mormont

in the HBO Game of Thrones television show!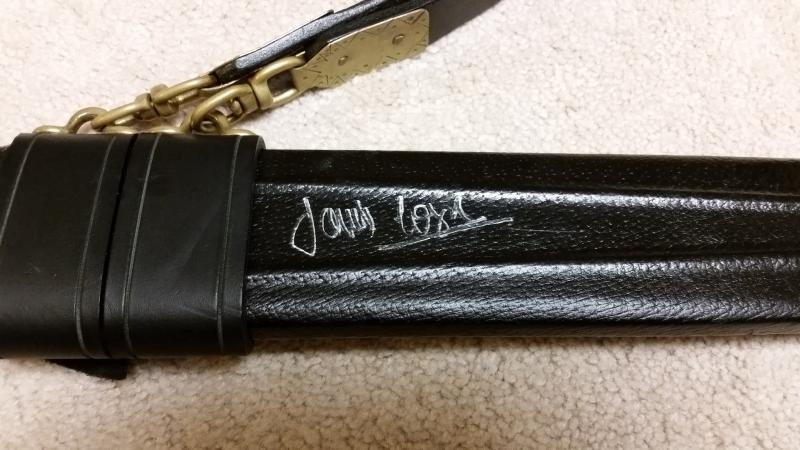 Stats:

43" OAL
32.5" Blade Length
8" Grip Length
~3.5" PoB
~21 CoP
Weight 3lbs, 2oz (by my scale)
Pommel and Guard are cast in bronze and finished with an antique finish.




The furniture shows very little signs of wear and the grip is pristine without damage. The sword is as solid as any of John Lundemo's blades. The leaf blade is flawlessly executed, and makes for a sword that both commands and demands respect.

The scabbard is one of my earlier laminate ones, so it's overbuilt to protect the leaf blade. It's rock solid and mounted with a nice heavy duty baldric crafted from 9-11oz tooling leather with brass and copper fittings. It's tipped with an antiqued steel chape w/ finial.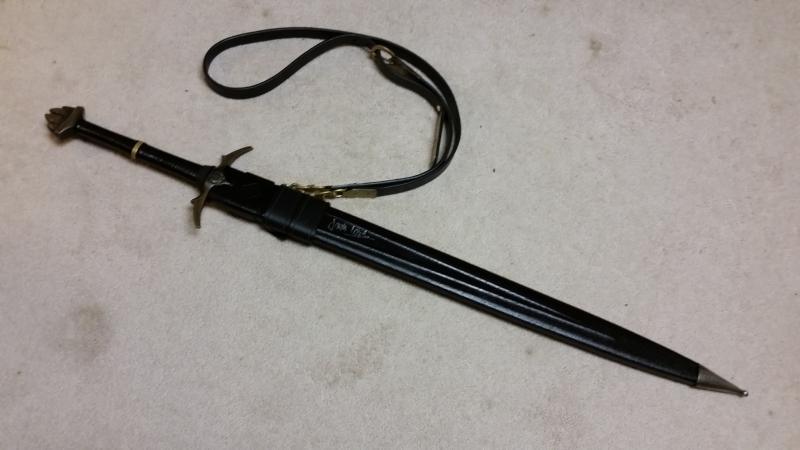 I will recondition the scabbard for the buyer, which means I will make sure that any wear is properly buffed out and waxed prior to shipment. Now, if you are not a Game of Thrones or James Cosmo fan, I will also remove his signature from the scabbard for you. This would be a sin in my book, but hey, if it's your sword - the customer is always right.






I will accept $975 FIRM shipped CONUS for this sword/scabbard package

, which is about half it's value. A new Morrigan will cost you $1600 (and at least a 6-9 month wait) and the scabbard / baldric would run another $325. So, that is $1925 worth of stuff you are getting for much, much less. This is a stellar deal on an Odinblade, especially in Morrigan's rare leaf form.

PM me here if you are interested. Thanks for viewing.

***This sword has been sold to the lucky gentleman below, thanks for viewing!***
---
J.E. Sarge


Crusader Monk Sword Scabbards and Customizations


www.crusadermonk.com



"But lack of documentation, especially for such early times, is not to be considered as evidence of non-existance."

- Ewart Oakeshott