***This item has been sold. Thank you for viewing!***



Greetings folks!

I have this like new

Windlass European Sword (Type XII)

for sale. I made this purchase from one of my customers and am offering it for sale. This sword has been improved upon in many ways.

- Peen has been blended.
- All furniture has had Windlass clear coat protectant removed.
- All furniture has been given a medium grey aged patina.
- The blade has had the Windlass clear coat protectant and 'Made in India' decal removed.
- The blade has been honed to a razor sharp edge, and when I say SHARP, I mean SHARP.
- The blade has been given a 400g satin finish.
- The grip has been completely redone in dark antique red with risers and cord wrapping added.

Stats are here: http://www.kultofathena.com/product.asp?item=...pean+Sword

If you have been looking at one of these swords, but did not like the stock version, you will love this version. This thing is in brand new shape and ready to rock and roll with over $120 of modifications.



I would like $130.00 (+$20.00 S/H) for it.

This means you are getting the sword for $30 less than KoA sells it for new with $120 worth of extras and the additional sharpening to spruce it up FOR FREE! PM me here if you are interested!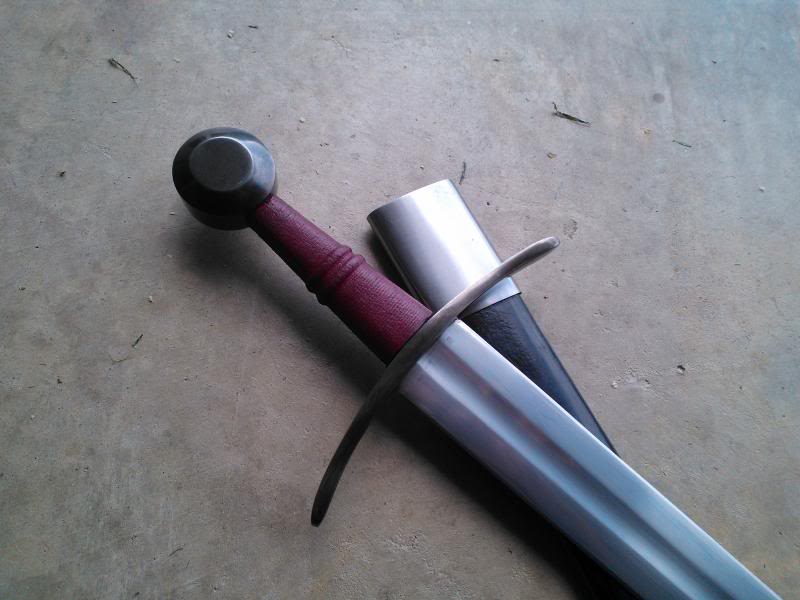 ---
J.E. Sarge


Crusader Monk Sword Scabbards and Customizations


www.crusadermonk.com



"But lack of documentation, especially for such early times, is not to be considered as evidence of non-existance."

- Ewart Oakeshott