15th Century Scottish Single-hand by Vince Evans


A hands-on review by Thomas McDonald



Introduction


In the fall of 2002, bladesmith Vince Evans mentioned to me his plans on recreating a most wonderful sword that he had seen, and handled, while doing research at The Museum of Scotland, Edinburgh. The piece was an original 15th century Scottish single-hand sword that sported features that have been depicted on tomb slabs and effigies in the West Highlands and the Isles.


Many of the surviving examples of this style of sword have not shown the care and attention to detail that this particular piece exhibits. With the fine lines of its down turned cross, the sweep of the langet area, and concave pommel, it is very apparent that this piece was special, and not just thrown together.
The following are photos that Vince took which show in excellent detail this wonderful piece of history: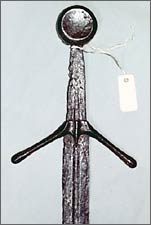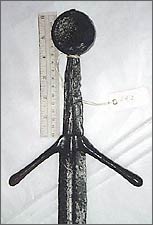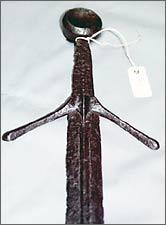 In the original's present state (without grip, pitted, and hole in pommel plate) here are its measurements:
Overall Length: 41.5", Blade Length: 34.5", Point of Balance: 9" from cross, Weight: 1 lb 13oz
Vince commented how nice this piece felt in hand, with a blade presence that meant business!
Overview
Although this piece was not commissioned, I was fortunate enough to be granted first refusals on it. Knowing first-hand the quality of Vince's work, owning several pieces by him, I was more than positive that it not only would be wonderful but something truly special. Shortly after the New Year of 2003 my suspicion was confirmed!
You can see by the photos that Vince did an amazing job bringing this special sword to life, so to speak.
Vince commented: "The grip is moose antler which looks like bone but is more solid. We pondered what the original grip must have been. There were no metal mounts to it that led us to believe that it was probably wood, leather over wood, or bone. Because of the width of the tang I felt bone would be the strongest."

Measurements and Specifications:
| | |
| --- | --- |
| Weight: | 2 pounds, 3.5 ounces |
| Overall length: | 41 inches |
| Blade length: | 34 inches |
| Grip length: | 4 inches |
| Profile taper: | 1 3/8 inces at hilt |
| Point of Balance: | 7 inches from guard |
| Center of Percussion: | 23 inches from guard |
Replica created by
Vince Evans
of Hawaii
The sword is complimented by a wood-cored scabbard featuring oxblood colored leather, antiqued brass furniture, and stitching up the back.
Handling Characteristics
The sword is quick and lively, carrying a solid blade presence that just screams "Cut something!" As I wish to keep this piece showroom-perfect, I avoided any real hard cutting mediums. It easily sheered thru all manner of pool noodles, clothesline rope, and rolled newspaper. I've no doubt it could handle the rough stuff, but no sense in messing up such a thing of beauty.
The bone handle provides an excellent grip. It's solid and tapered wonderfully with carved grooves. As the bone is porous, it does not tend to make your hand sweat; so no deodorant required!
This style hilt gives the operator lots of freedom of movement and even allows a two-handed grip if you grasp the pommel. Although weighted more for the cut, this piece is also an excellent thruster with very decent point control.
Fit and Finish
The fit and finish is the usual high quality I've come to know from Mr. Evans, but I swear he just out-does himself with every piece I see. The carving he did on the bone is most impressive. The way he incorporated the relief to match the guard is truly the work of a man with imagination, a good eye, and care for what he is doing. Let's not forget talent, with a capital "T".
Conclusion
The skill and care that Vince Evans brings to his craft is simply amazing and I could not recommend him any higher! His long hours of research to get it right, his devotion and love for what he does, all shines though on every piece he makes. Doing business with Vince is like a breath of fresh air; a nicer guy you'd be hard pressed to find.
About the Author
Thomas McDonald has been collecting swords since the 1980s. His interests have taken on a serious Scottish slant, with the baskethilt claidheamh mor being his main focus. He loves all types and styles of the sword but the call of his Highland roots is strong.

Acknowledgements
Photographer: Thomas McDonald