Tod's Stuff and Owen Bush Inlaid Broken-Back Seax


A hands-on review by Jeremy V. Krause with comments from Chad Arnow



Introduction


The seax was the ubiquitous knife used by the migrating people of continental Europe and what are known today as the British Isles. Early examples may be traced back to the 5th century AD. The latest extant specimens were likely made in the 11th century. There is evidence that seaxes were produced with either a utility or a military purpose in mind, or both. They may be found with blades as short as 4 inches and as long as 30 inches.

The subject of this review is an example of a late 10th to early 11th century example of an Anglo Saxon broken-back seax sharing the general shape and proportion of the Honey Lane seax and other late period seaxes housed in The Museum of London. Part of the inspiration of this piece was an attempt by the maker to produce a seax that could have seen service even as late as the Battle of Hastings.



Overview


The blade of this reproduction was produced by Owen Bush, a British bladesmith who specializes in pattern-welded and laminated steels. The remainder of work, including all the inlay, making and fitting of the handle, and sheath were executed by Leo "Tod" Todeschini, who produces custom weapons and other accoutrements of antiquity through his main company, Tod's Stuff. He also provides traditional materials such as wood, bone, leather, etc. through his other venture, Traditional Materials.

This project took approximately five months from my original contact and commissioning to the delivery. All communication with Mr. Todeschini was clear and professional and I was provided with updates as appropriate.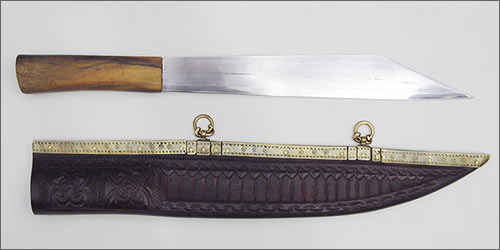 Measurements and Specifications:
| | |
| --- | --- |
| Weight: | 14.75 ounces |
| Overall length: | 17 1/8 inches |
| Blade length: | 12 inches |
| Blade width: | 1 1/2 inches at base, tapering to 3/8 inch |
| Hilt length: | 5 1/4 inches |

Replica created by Tod's Stuff and Owen Bush the United Kingdom.



Handling Characteristics


This piece feels very solid in the hand, with a fair amount of blade presence due to the heavy triangular cross-section which is authentic for this type. At the same time, due to its relative small size it moves very quickly and would seem to be able to cause considerable damage to a lightly armoured opponent. The point is very acute and, due to the shape of the blade, is well reinforced. Both the "hammer" and "ice-pick" grips seem equally comfortable. Due to the smooth, untextured wood some may worry about the hand slipping onto the blade but I did not experience this. I believe that this type of seax would generally be used along with a shield.

I feel it is important to point out that while this seax does feel very comfortable dynamically, very little is known of the martial use of the seax. I have not used this piece for cutting or any other martial arts type of handling.

I feel that in regards to the handling of this piece some attention may be given to the length of the grip in comparison to the blade. Some individuals involved in studying the seax feel that grips should be of a length somewhat longer than would be expected. Indeed, some earlier period seaxes do show comparatively longer grips that can appear mildly out of proportion to the modern eye accustomed to seeing the general proportions of the contemporary knife. Regarding this piece the question of hilt length may be of some interest. Perhaps this reproduction could have been made with a slightly longer grip or perhaps it is best realized as it is. It should be pointed out, though, that no later period seaxes have extant grips, at least none that have been documented so far.

In considering this question Mr. Todeschini stated that with this style of later period examples in which the tang seems to be relatively short, not passing through the entire grip, the engineering issue of sound construction seems to indicate that a shorter hilt would be superior. He stated that longer grips place more stress on the blade shoulder section and that a knife meant for battle would need a sturdy construction indeed.

In conclusion, I feel that this choice of grip length is entirely plausible and may, indeed, be preferable for this type of seax. I do believe that the issue of grip length on later period, especially Anglo Saxon broken-back seaxes, is certainly worthy of continued study and musing.

Fellow collector Chad Arnow had this to say:



"The seax fulfilled many functions over its lifespan, from everyday tool to backup weapon in warfare. This one would fill all those roles just as ably as its ancestors. The grip is somewhat axe-like in size and shape and is comfortable and secure. The lack of a guard might be unsettling to some, but is appropriate for this type of knife.

"Because it is simply a wood grip and thick wedge-shaped steel blade, it has a great deal of blade presence. I wanted to chop something with it but didn't want to give its owner a heart attack by doing so. The weight and balance make it seem more like a serious weapon of war than everyday tool and it would be deadly in a closely-packed melee."



Fit and Finish


I chose to give Mr. Todeschini quite a bit of creative license on the design and execution of this piece while asking that all design elements adhere as closely as possible to 10th-11th century weapons.

I feel that he did a masterful job at taking this already impressive blade from Mr. Bush and taking it to the next level to create a weapon that is both beautiful and functional.

The blade is fashioned of a wrought iron body with 3/8" of 300-layer laminated steel forge-welded onto it as the edge. The steel is not etched and so at first glance appears to be of a homologous material but upon very close inspection its structure can be seen. The wrought iron body has a very attractive grain.

The pure (non-Sterling) silver and copper inlay is largely inspired by a Honey Lane seax found on Page 20 of Daggers and Bayonets by Logan Thompson exhibiting the Chevron pattern of laying in two bundles of opposite twists of wire and the larger triangular area towards the tip of the blade. Added to this were two non-twisted wires which was also a common technique. The short twisted-wire pieces used to create a series of triangles is not taken from a specific example, but this pattern of repeated triangles is common to this period. Overall the inlay design is a conglomerate of different examples of the period, creatively combined into a handsomely realized whole.

The name

LEVTFRIT

is inscribed into a small section of silver at the base of the blade. This name was chosen as other swords are found datable to this period and one of them has been found in the United Kingdom.

The inlay of this piece is not perfectly executed but it is in keeping with examples of this period and is among the finest executions I have seen on a modern reproduction.

Mr. Todeschini produced an impressive sheath to house this seax. It is composed of 1/8" vegetable tanned leather, carved on the front face and dyed a rich chestnut. The carving on this reproduction is inspired by this example dated to the 10th century found in Aachen, Germany. The brass strips used to fasten this sheath were broken up into nine pieces to allow for some degree of flexibility, which is a feature seen on higher status daggers such as the Aachen example.

The grip is fashioned from spalted boxwood and is fastened to the blade using holly wood wedges and is bonded with an epoxy resin. Spalted wood is harvested from a tree in which fungus has begun to grow but before the strength of the material has been compromised thus creating an interesting pattern in the wood. Small copper pins have been set into the top of the grip and add a bit of understated flare to the wood.

Chad Arnow made these remarks about its fit and finish:



"This seax is both simple and complex visually. The basic form of blade and grip are exceedingly simply but are executed with small details that add to its historical accuracy and appearance. The copper pins are a nice addition to the otherwise simple grip.

"The blade, though, is a sight to behold. The natural pattern of the wrought iron contrasts with the smooth, brighter steel edge. The inlay (on the spine and one side of the blade) is very well-done, though obviously done by hand as there are small imperfections. The word

LEVTFRIT

is chiseled into the silver inlay as on some period weapons. All in all, a wonderfully historical and attractive piece.

"The scabbard, as with all I've seen from Tod's Stuff, is no afterthought. It is well-formed of leather and brass, with nice tooling on the leather. The brass band that covers the seam is decorated with cup and ring designs (like a modern target symbol) that date back to prehistoric times."

Conclusion


It should be apparent that I am very pleased with this seax. I would recommend that anyone seeking an example of the highest quality seax contact Tod's Stuff, especially those desiring more complex, period-appropriate blade construction and any inlay work. One would pay more for a non-homogenous material blade but if that is important to you it is worth the price.





About the Author
Jeremy Krause is a Clinical Social Worker currently living in Winston-Salem, North Carolina. His interest in the Middle Ages and European medieval arms began as a child and has developed into a particular fascination of arms and armour from the early medieval period. His collection consists primarily of pieces representing the period 1000-1300 C.E.

Sources
Daggers and Bayonets, by Logan Thompson

Acknowledgements
Photographer: Chad Arnow