Tod's Stuff English Cutler Ballock Dagger


A hands-on review by Chad Arnow



Introduction


In an era so dominated by the influence of the church, it might seem surprising that one of the more popular forms of dagger hilts was a phallic-shaped one, known as the ballock dagger. Popular from the 14th to the 17th centuries, its suggestively shaped hilt was also one of extreme practicality. The lobes (usually a pair of them, but occasionally more than two) that give the form its name can serve, depending on the dagger's size and shaping, as either a gripping surface for the finger(s) nearest the blade or as a means of stopping the hand from sliding onto the blade in a hard thrust. Daggers of this form tended to not have quillons or guards in the traditional sense, though many had metal hilt plates/bolsters, some with drooping and/or scrolling protrusions. The presence of the lobes, therefore, helps secure the grip in the wielder's hand. Given that these daggers were often, though not always, used in the point-down "ice-pick" grip, a means of securing the grip in the hands was quite necessary to prevent injury to the wielder.

Ballock daggers served men of varying stations, and period art shows them in the hands and at the belts of both civilians and warriors. Due to this, these daggers varied considerably in decoration, with examples showing extreme subtlety and beauty in execution as well as extreme crudeness and simplicity. Common elements, though, include a stout blade (which could be single-edged or double-edged) and a hilt normally, though not always, of an organic material. Many examples also have metal at one or both ends of the grip, serving as either a pommel cap or as a bolster/proto-guard.



Overview


The English Cutler is a small enterprise run by Leo "Tod" Todeschini. Tod sells fully custom and off-the-peg one-of-a-kind items through his company Tod's Stuff as well as historical castings through Tod's Foundry. Items sold under the English Cutler brand are designed by Tod and made for him to his specifications. To keep the price low these items offer no customizations and are finished to a slightly lower (though still historic) level than pieces sold under the Tod's Stuff banner. The English Cutler lineup, therefore, consists of pieces with historical flare, appeal, and durability sold at very attractive prices. Tod's goal is to have all the English Cutler items in stock at any given, meaning a wide array of items--from weapons to leather goods and eating wares--are readily and quickly available to the public.

On the English Cutler site, this item is referred to simply as "Bollock Dagger 3 - 1450-1550." The standard configuration calls for an ebony grip, brass fittings, and a black-dyed scabbard. This example differs as it was made with a linseed-oiled beech grip and a brown scabbard.

Pieces in the English Cutler lineup are not meant to replicate particular historical pieces, but to be historically plausible pieces that draw inspiration from multiple historical sources. This dagger, though it bears some similarities to the famed ballock dagger catalogued as item A732 in The Wallace Collection, is not an exact replica of it.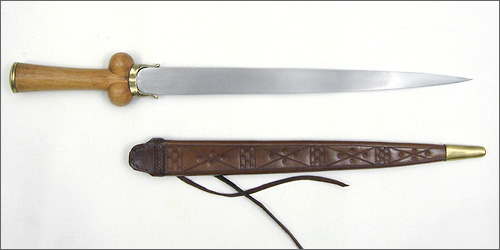 Measurements and Specifications:
| | |
| --- | --- |
| Weight: | 10.5 ounces |
| Overall length: | 17 3/4 inches |
| Blade length: | 13 inches |
| Blade width: | 1 inch at base, tapering to 1/4 inch |
| Grip length: | 3 1/2 inches |
| Guard width: | 1 3/8 inches |

Replica created by The English Cutler of Oxford, United Kingdom.



Handling Characteristics


With a blade that is just over a quarter-inch thick at the base, this dagger handles with authority. Hilts of this form don't seem to be designed to counter-balance the blade, so expect a decent amount of blade presence in pieces like this. In this piece, you get a feeling of surety and lethality that would give comfort to the wielder in battle. The dagger is also stout enough to be used around the camp for certain chores.

The grip is well-sized for my bare hand and would fit well in a gauntlet-clad hand as well. The haunches stop the hand from sliding onto the blade in a hard thrust, adding a feeling of security during handling. The blade is extremely sharp and would serve well held point-down in the so-called "ice-pick" grip, or point-up like a sword.



Fit and Finish


Having owned and handled a number of Tod's custom Tod's Stuff items, it's easy to note that the overall finish is rougher here than on his custom pieces. This is by design and was not unexpected. On the blade, file and grind marks are present. I've some the same amount or worse on museum pieces and they don't bother me.

The brass castings used for the pommel cap and guard are cleanly done and attractively finished to a matte finish. They mate nicely with the beech grip, whose haunches/lobes are more pronounced than the picture on the website. The grip itself is nicely shaped and finished, though it is not symmetrical. The grip is flatter on the side that aligns with the edge than on the other side. This results in the grip looking, at some angles, like it is mounted at a slight angle to the blade. It is not, however.

The scabbard is attractively done in two layers of tight-fitting leather. Unlike many of Tod's custom scabbards, it is not tooled on the back. I'll admit I may have become spoiled by that feature; its absence on this piece is understandable given the aggressive price point. Incised lines and stamped decorations cover the front in an attractive pattern. The brass chape is finished, just like the hilt components, to a matte finish. When in the scabbard, the dagger is designed to hang from a belt via a long leather thong.



Conclusion


The English Cutler Web site prices this item at £175 at the time of this writing. At current exchange rates, this piece is priced at less than $275 US, which this author feels is a great value. In a price range where you often get low standards of historical accuracy and low quality in construction and where pieces often lack scabbards, this ballock dagger stands apart as a well-constructed, attractive piece that should fit a variety of personas and budgets.





About the Author
Chad Arnow is a classical musician from the greater Cincinnati area and has had an interest in military history for many years. Though his collecting tends to focus on European weapons and armour of the High Middle Ages, he enjoys swords, knives and armour from many eras.

Acknowledgements
Photographer: Chad Arnow