Lewis Moore 14th Century Hourglass Gauntlets


A hands-on review by Bill Grandy



Introduction


By the end of the 13th century plate armour began to evolve to reinforce mail. The ability to articulate plate defenses grew, which led to new developments in armour to protect the arms, legs, and hands. Plate gauntlets began to augment, and eventually replace outright, the earlier forms of mail "mittens" commonly seen in the 13th century. Some of these plate gauntlets were not even steel, but were gloves plated with whalebone.

By the mid-14th century we begin to see what is now referred to as the "hourglass" gauntlet, a style that became the dominant plate gauntlet for the rest of the century. The distinguishing feature of these hand defenses was a large plate shaped to protect the back of the hand, wrist and part of the forearm. It is so named because this plate is wide at the hand, narrowing at the wrist, then flaring out at the cuff, giving it an hourglass shape. Generally the plate is embossed to give the impression of knuckles, which may have been decorative, but may have also served to give some reinforcement.

These gauntlets were generally built with a leather liner; a glove was then sewn onto the liner. Many hourglass gauntlets only protect the back of the hand, but several have finger plates as well.



Overview


I purchased these gauntlets from Lewis Moore of Knights Armoury, a professional armourer from Georgia. Lewis had been recommended to me for his excellent customer service, speed and quality-to-price ratio, and he did not disappoint in the least. Lewis was incredibly fast in his email replies, and was both helpful and friendly. Lewis's basic all-steel gauntlets are $200 US, and the price goes up from there if the buyer desires decorative elements such as brass or etching. I was incredibly pleased with his pricing, and having had the chance to see some of his work previously, I placed the order. Lewis had the gauntlets to me with lightening-quick speed, in barely over a week including shipping. After my excellent experience with him, a few other members of my western martial arts group placed orders and had their gauntlets within days of their orders. I have heard that this is the norm with Lewis, which is quite remarkable.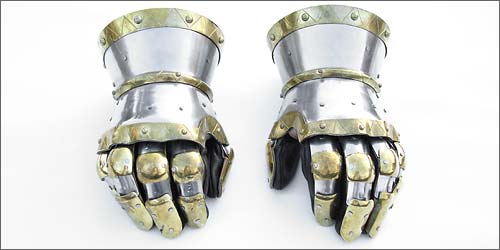 Measurements and Specifications:
| | |
| --- | --- |
| Weight of each gauntlet: | 1 pound, 15 ounces |
| Overall length: | ~9 inches |
| Cuff length: | 2 1/4 inches |
| Metacarpal plate length: | 3 inches |
| Cuff width: | 5 inches |
| Exterior circumference of the wrist: | 13 inches |
| Width of metacarpal plate at the knuckles: | 4 1/2 inches |

Replica created by Lewis Moore of Knights Armoury, from Georgia.



Fit and Finish


For the price of these gauntlets, they are incredibly nice. The articulation is smooth and seamless. Lewis gave me the option of him using welding gloves or me sending my own gloves to him; I opted for the latter. I sent him a pair of Swordsman's Gloves from Revival Clothing, which compliments the ensemble quite nicely. I have almost full range of movement, with at least as much mobility as with high-end gauntlets. I was incredibly pleased with these.

The gauntlets are really attractive. Original pieces are often adorned with latten (brass or bronze) decorations, starting with simple domed rivets and extending to elaborate cast, filed and engraved edging. Lewis offered the option of adding brass elements such as on originals, and I decided to take him up on this. The brass on the cuff, wrist, and over the knuckles is stamped with a simple but attractive triangular pattern. The contrast of brass on steel makes for a very beautiful look.

One aspect that is missing from these gauntlets is the knuckle-rider plate, which is a plate in-between where the fingers meet the metacarpal plate. This was a concern of mine when I first examined these, as this oft-overlooked piece prevents a sword tip from sliding in between this joint. When I put the gauntlets onto my hand, I could see that this was not an issue, as Lewis had made the finger lames long enough to cover the area. But this, too, was a concern at first, as I have seen this solution used on poorly made gauntlets that causes mobility to be lost at that joint. Surprisingly, I have yet to experience any problems at all despite this.

I have used these gauntlets in bouting against both steel swords as well as aluminum wasters, and not only are they maneuverable enough to do so, they've also held up quite well. Hard strikes to the fingers can definitely be felt, with some pain even, but nothing too serious. The only concerns I have at all with these in bouting has nothing to do with their construction, but with the minor openings inherent in the 14th century design. The side of the index finger that faces a sword's guard, as well as the opposite side of the hand that faces the pommel, are slightly vulnerable to a thrust. Despite the vulnerabilities, these openings are acceptable because with out them the gauntlets would be bulkier, and gripping the sword would be much less natural. Clearly the makers of the original design knew what they were doing. It is something that a potential buyer should know, however, should they be using these gauntlets for bouting against weapons with narrow points. Assuming your partner is practiced and controlled, however, this should not be much of an issue.

These gauntlets are constructed of 16 gauge steel, though Lewis said that he makes these in 18 gauge stainless steel as well. It should be noted that these gauntlets are not fully custom-fitted, but rather a standard size. I believe this is part of how the price is kept to a minimum, by making standard blanks and working from those. I generally wear a large glove, and by sending Lewis my own glove to be fitted, he arranged the pieces to it so that it fits my hand perfectly. Should you require a different size you should contact him directly to discuss options.



Conclusion


Outstanding customer service, incredibly fast delivery time, high level of workmanship, and very reasonable price are terms hardly ever put together in the armour market. Somehow, Lewis Moore has pulled it off, and consistently too. I am incredibly pleased with these gauntlets. Not only have I recommended Lewis's work to many others since receiving these, but I intend to talk to Lewis about other 14th century pieces of armour as well. If you are looking for a source for attractive and functional hourglass gauntlets, Lewis Moore is definitely someone you need to consider.





About the Author
Bill Grandy is an instructor of Historical European Swordsmanship and sport fencing at the Virginia Academy of Fencing. He has held a strong passion (obsession?) for swords and swordsmanship for as long as he can remember. He admits that this passion comes from a youth spent playing Dungeons and Dragons, but he'll only admit that if there are no girls around.

Acknowledgements
Photographer: Bill Grandy