Armour and Castings Gothic Finger Gauntlets


A hands-on review by Bill Grandy



Introduction


Adequate hand protection for the armoured knight seems to have long been a concern. Mail-clad knights of the 13th century wore mail mittens that gave protection against cuts and still allowed ample dexterity. By the 14th century, however, the ability to make articulated plate defenses made plate gauntlets increasingly common among wealthier knights. Until around 1430, the hand defenses of the typical German knight were most likely to be the standard "hourglass" styled gauntlets, but after this time we begin seeing a newer form of gauntlet that became typical for the 15th century German armourers. The cuffs became longer, but did not flare out as widely as the 14th century hourglass gauntlets (a sword tip could be slipped into the latter, as noted by contemporary fencing treatises). To facilitate proper wrist motion, the area covering the fingers and wrist developed into multiple articulated plates, unlike the earlier one-piece hourglass design.



Overview


Armour and Castings, as their name implies, specializes in creating historically-based armour as well as castings of rivets, buckles, and similar products. They are based in the Ukraine, but seem to cater to the American market, as all of their prices are in US dollars. The American currency's strength allows American buyers to purchase armour at less expensive prices.

When ordering through them, the communication was excellent. Beathan Nolan, the founder, was very fast with email replies and kept me updated even when I did not ask. Construction and delivery was also very fast. The package was delivered to my door within three weeks of placing the order.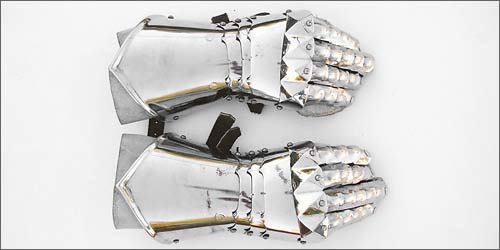 Measurements and Specifications:
| | |
| --- | --- |
| Weight of each gauntlet: | 1 pound, 15 ounces |
| Overall length: | ~12 1/2 inches |
| Cuff length: | 5 1/2 inches |
| Metacarpal plate length: | 6 inches |
| Cuff width: | 7 1/2 inches |
| Width of wrist: | 5 1/4 inches |
| Width of metacarpal plate at the knuckles: | 6 1/4 inches |

Replica created by Armour and Castings of the Ukraine.



Fit and Finish


These gauntlets definitely need to be looked at as "budget level" offerings. They are basically functional, and they capture the general shape of early 15th century gothic gauntlets, but they are not high-end pieces of armour by any means. At a price point of $160 US, though, one should have no reason to expect them to be. The articulation is a little stiff in the fingers. Part of this has to do with the fact that the fingerplates catch on each other ever so slightly, making these only a little more dexterous than mitten-styled gauntlets. Another issue is that these are attached to welding gloves, which are very stiff and not terribly comfortable. This I am certain has to do with keeping the cost down, and is quite acceptable for the price.

Because I do not like the supplied gloves, my intent was to remove them and sew in a new pair. When I went to do this, I saw that the plates were directly riveted to the gloves. Historically the plates were riveted to leather, onto which the gloves were then sewn. This not only provided a small layer of shock absorbency, but also prevented the rivets from ever touching the bare skin. There are also two rivets on the cuff that hold the glove in place. These look out of place, as I have never seen a pair of original gauntlets with such rivets. Riveting is easier and faster than sewing, so this is clearly another corner cut to keep the cost down. I have not experienced any problems with the rivets hurting my hands so far, though it was a bit of a concern for me at first. I will probably cut the gloves out, leaving part of the leather in so that I have something on which to sew new, more flexible gloves.

The gauntlets are a little on the bulky side. They are not terribly bad, but they do not share the slender looks of period originals. This also makes certain actions with a sword in hand feel more awkward than with higher-end gauntlets, though they are still reasonable. Of particular note is that the gauntlet makes full contact with the cross of the sword rather than the hand, which makes gripping the sword feel odd. Most period originals that I have seen are more open at this point, allowing the guard to be closer to the finger. On the plus side, this construction style means that the hand is fully protected there, so there is a tradeoff.

The buckles that hold the straps to the hand are cheap mass produced ones that look modern. Again, this was obviously to keep down the cost, so that is not a major complaint, although the holes of the straps only just barely fit, which makes putting these gauntlets on the first several times more difficult than necessary.

I bought these gauntlets specifically for practicing the use of the longsword. They were meant to deal with steel blunts as well as aluminum wasters. In use I have found them to be adequate, but not ideal. In addition to the stiffness, shock can be painfully felt directly through the metacarpal plate to the hand should you be struck hard there. While a little pain can be expected from time to time, the way the gauntlet rests on the back of the hand really transmits almost all of the force into it. I may put additional padding on the back of the new gloves I intend to sew in.

I consider these gauntlets functional for bouting against steel and aluminum, but they do leave a lot to be desired. In terms of pure functionality, I have found lacrosse gloves to be better for such use, plus lacrosse gloves will not damage wooden wasters and are, of course, much cheaper. With a little modification they may prove to be alright. Depending on your needs, these may or may not be the gauntlets for you.



Conclusion


The Armour and Castings gauntlets are definitely worth the very inexpensive asking price. If one isn't being too picky, they capture the basic look of what they're trying to recreate. If something more historically accurate is desired, expect to pay much more. As basic hand protection for western martial arts use, they work, but unless you specifically want gauntlets, it may be better to simply use modern sports equipment in this regard. On the other hand, if you are looking for cheap gauntlets to finish off your kit quickly until you can afford more expensive ones, these are very likely the best value for the very inexpensive price.





About the Author
Bill Grandy is an instructor of Historical European Swordsmanship and sport fencing at the Virginia Academy of Fencing. He has held a strong passion (obsession?) for swords and swordsmanship for as long as he can remember. He admits that this passion comes from a youth spent playing Dungeons and Dragons, but he'll only admit that if there are no girls around.

Acknowledgements
Photographer: Bill Grandy