Arms & Armor Custom Swiss Dagger


A hands-on review by Chad Arnow



Introduction


When choosing historical pieces to replicate, one is sometimes faced with a conundrum: since so many surviving pieces are fragmentary, how does a single complete piece get replicated? Such is the case with many early Swiss daggers (please note that English language sources often simply calls these baselards, a form to which they are related and which the earliest examples precede). Many examples of Swiss daggers survive in the Schweizerisches Landesmuseum in Zurich, but few are complete. Many lack their grips, as the wood has rotted away in the six or so centuries since their creation. However, enough remain to ascertain general characteristics. Plenty of blades remain, and show a variety of cross-sections, from single-edged triangular sections to double-edged diamond sections, plus double-edged triangular sections. If scabbards survive, they are generally lacking the leather that formed their body, though their metal parts may remain. In at least two examples, a curious feature can be seen: metal scabbard frames comprised of a chape and strips of metal meant to encompass the scabbard.

As a fan of all dagger forms, I have long been interested in Swiss daggers and baselards. When I finally decided to commission one, I faced the reality of the fragmentary nature of the survivors. Rather than get caught up in trying to locate a complete example, I simply chose to focus on features I liked that had similar origins and dates, and had them combined into a piece that I feel is wholly plausible, yet unique.

The grip of this replica is based on one of the surviving grips from the early 14th century. It is paired with a blade form that seems to have been reasonably common in the late 13th and early 14th centuries. It is double-edged and triangular in cross-section. This asymmetrical form has two fullers (though not all were fullered) and a prominent mid-rib on its front face while the back is flat. As is characteristic of these early forms, the blade is fairly short and very wide. I chose one of the few scabbard frames from that era for this project.



Overview


Arms & Armor of Minnesota has long been known for their production swords, daggers, polearms, and armour. Though custom projects have long been part of their work, the profile of their custom work has increased in recent years as their shop has turned out excellent examples of recreations of all kinds.

I have been happy with past production and custom items from them, and they were an obvious choice for this project. Communication is always good and pleasant and their dedication to accuracy really shines throughout the process.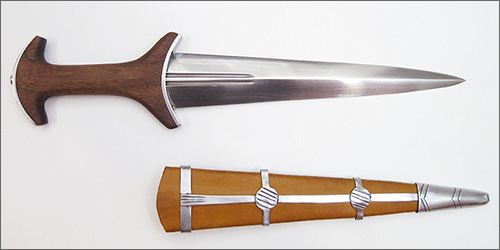 Measurements and Specifications:
| | |
| --- | --- |
| Weight: | 10.625 ounces |
| Overall length: | 14 1/2 inches |
| Blade length: | 9 inches |
| Blade width: | 1 3/4 inches at base, tapering to 1/2 inch |
| Grip length: | 4 3/4 inches |
| Guard width: | 3 inches |

Replica created by Arms & Armor of Minnesota.



Handling Characteristics


Period daggers are generally seen as thrusting weapons. (The word dagger is even related to a seldom-used English verb dag: to stab) When appearing in period art, they are most often employed that way. With its wicked point and stiff blade, this dagger would be a lethal thruster. In addition, its proportions and cross-section serve to concentrate a pleasing amount of mass near the hand, making it feel very handy.

The grip of this dagger is quite comfortable. Since the dagger's primary purpose is to deliver strong downward thrusts, the grip is most comfortable when wielded in the so-called "ice-pick" grip with the blade below the fist. However, it is also comfortable when wielded blade-up. Both grips are secure and the hand feels locked into the grip, a good thing given the blade's sharpness.



Fit and Finish


Arms & Armor rarely disappoints in fit and finish, giving their pieces an authentic, hand-made look that isn't sloppy. This piece is no exception. Throughout the piece, there is evidence of the same slight asymmetries and imperfections that give antiques their character. However, there is no evidence of poor craftsmanship; instead we are left with a look that is organic and authentic.

The grip appears simple at first glance, being a piece of wood, two strips of metal and some pins, but there is more to it than that. To better mate with the raised mid-rib of the blade, the front face of the grip and metal bands swell slightly at their centers; the back of the grip is flat, as is the blade on that side. The walnut wood is well-carved, with smooth transitions from one plane to another. The top of the grip features a round pommel nut and the peened tang and shows the two heads of the brass nails that secure it to the grip. Two more nail heads, not centered vertically to accommodate the blade's section, adorn the band that serves as the "guard."

The blade is exceptional. The short, narrow fullers are well done without looking machine-perfect. The finish of the blade is even, attractive, and should be easy to maintain. Given the expanse of the blade's flat back, an even finish is very appreciated.

The scabbard, formed of two layers of tan-dyed leather underneath a steel frame, fits the blade tightly. File-work adorns the bands and chape, which are brazed to each other. Both the chape and horizontal bands have their seams at the rear. On the back side of the scabbard a twisted steel band has been curled and brazed to the top band to allow a leather suspension thong to be used.



Conclusion


Overall, I'm very pleased with this dagger. It captures the feel and spirit of originals in a well-crafted package. True to its inspirations, it is not one of the long, thin, daggers we often see. Instead, it is compact, handy, and brutal with an authoritative feel. Arms & Armor has once again proven their skill in replicating both the common and uncommon.





About the Author
Chad Arnow is a classical musician from the greater Cincinnati area and has had an interest in military history for many years. Though his collecting tends to focus on European weapons and armour of the High Middle Ages, he enjoys swords, knives and armour from many eras.

Acknowledgements
My thanks to Markus Nußbaumer for pictures of original Swiss daggers.
Photographer: Chad Arnow