Arms & Armor German Bastard Sword


A hands-on review by Patrick Kelly



Introduction


There is a common misconception that the sword followed a steady and continuous stage of evolution. This view holds that the sword developed from the early broad-bladed cutting designs of the Middle Ages up to the delicate, if deadly, smallsword of the 18th century. In actuality one type of blade did not replace another. Instead many designs, both of cutting and thrusting type, coexisted side by side. Even through the high Middle Ages and into the early renaissance large cutting swords were needed on the battlefield. The German Bastard Sword is an excellent modern made example of this type.



Overview


The makers of this fine replica, Arms & Armor of Minneapolis Minnesota, have been in the business of medieval weapons reproduction for over twenty years. A&A uses the manufacturing methods of stock removal and lost wax casting to produce weapons that are affordable yet very authentic in appearance. In my opinion the German Bastard Sword is one of their finest efforts.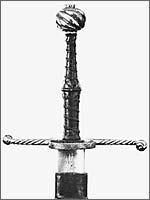 Measurements and Specifications:
| | |
| --- | --- |
| Weight: | 4 pounds 7 ounces |
| Overall length: | 49 inches |
| Blade length: | 37.75 inches |
| Guard width: | 10.5 inches |
| Grip length: | 8.08 inches |
| Profile taper: | 1.929 inches to .904 inch |
| Distal taper: | .243 inch to .105 inch |
| Point of Balance: | 3.5 inches from guard |
| Center of Percussion: | 22.75 inches from guard |

Original dated circa 1500 A.D.
Replica created by Arms & Armor of Minnesota



Handling Characteristics


By popular definition a Bastard Sword is a weapon designed for use with either one or two hands. In the case of the German Bastard Sword this is a bit of a misnomer. Make no mistake this is a two-handed weapon. Some have described this sword as being heavy. In terms of a true hand-and-a-half weapon this would be true. If used with one hand the GBS would quickly tire the user. In reality this sword is designed, and is at its best, in two-handed use. When used in the proper fashion this sword is quite lively and responsive. The blade tracks easily in cutting techniques and transitions easily from the cut to the thrust. While the blade's flattened diamond cross section is quite sufficient for the cut it is also suitably rigid and quite capable in the thrust, an excellent general purpose design. This sword is well suited for the types of swordsmanship advocated by the medieval masters of the German school. The guard features two mid-sized side rings that are designed to protect the user's hands during the vigorous binding techniques found in the German method.

I have owned two copies of this sword. For over two years the first saw heavy use as my primary tool for cutting practice and experimentation. These tests ranged from the basic to the extreme and the German Bastard Sword handled them all with aplomb. No loosening of any component was ever encountered. This is a testament to the sword's proper harmonic balancing.

Over the last couple of years Arms & Armor has made a concerted effort to improve their blade designing and manufacturing. This was apparent to me when I examined several of my more recent A&A acquisitions. Since the German Bastard Sword had always been one of my favorites in the A&A stable I decided to upgrade to a new sword. The newer improvements have turned an outstanding sword into an even better one.

The older blade design did not exhibit quite as much profile taper or rigidity as the newer one. These two aspects have resulted in a blade that is now much more capable in the dual role of cut and thrust. A&A has improved their blade machining to the extent that there is now no discernable secondary bevel at the edge. Not only is this a big visual improvement but it also improves cutting performance. Another more minor change concerns the grip. The latest grip configuration is now much thinner and narrower than the old design. This change has an effect in the way in which the sword handles. I personally feel that it imparts an increased since of control during handling.



Fit and Finish


If I had to use one word to describe the German Bastard Sword it would have to be "stylish". The furniture (guard and pommel) is fashioned in a roped, or writhen, style that was very popular during the high medieval period. This decoration adds a nice sense of style to the piece without seeming gaudy or ostentatious. This decoration is achieved by using the lost wax method of casting. This manufacturing method is used with the intent of adding detail, and visual appeal, which would be much more expensive when achieved with a more traditional process. When cast in softer tool steel the resultant parts have a strength to weight ratio similar to parts made of period correct iron.

The wooden grip is covered with black leather that has been stitched and shrunk to fit with beeswax. This results in a grip that is attractive and durable at the same time. I have previously mentioned A&A's improvements in their blade manufacturing; this also includes the aspect of finish. The machining of the newer GBS is much more precise than older examples. The blade is finished with an even satin sheen that is both attractive and practical. If the owner wishes to use his/her sword in cutting practice this is an easily maintained level of finish.



Conclusion


As I have already stated Arms & Armor's German Bastard Sword is one of my favorite, and one of the finest, swords of its type in this price range. It has impressive size, style and handling at an affordable price. What more could a sword lover want?





About the Author
Patrick is a State Trooper serving with the Kansas Highway Patrol. He has been fascinated with edged weapons, particularly the medieval sword, since early childhood. Not only is Patrick thankful for any opportunity to indulge in his favorite hobby, he is also blessed with a wife who tolerates a house full of sharp pointy things.

Acknowledgements
Photographer: Patrick Kelly