Arms & Armor English Buckler


A hands-on review by Bill Grandy



Introduction


The use of a shield in conjunction with another weapon is an ancient concept, one utilized all over the world in many different time periods. Shields came in many shapes and sizes dependent on both function and fashion. Large square defenses made sense for the shield walls of ancient Rome, while small bucklers made sense to be hung on the belt of 15th century archers as a backup defense. Shields were carried for use by both soldiers and civilians alike.

In modern times, the practice of western martial arts has caused many to research the historical methods of shield usage. Hard evidence of the use of larger shields of the medieval period is scarce, but there are many detailed treatises on the use of the sword and buckler (a small shield held in the fist). In fact, the oldest known fencing treatise is specifically focused on the use of the sword and buckler. This treatise is anonymous, and known only by its museum name of Royal Armouries MS I.33, or I.33 (one thirty-three) for short. This manual, along with many other treatises seen up through the Renaissance, depict detailed stances and techniques revealing the sophisticated yet graceful fighting methods of this combination. It is evident that the buckler held a strong place within the martial heritage of Europe from which modern martial artists can draw.



Overview


The buckler being reviewed here was created by Arms & Armor (A&A). It is not an exact replica of a particular piece, but is based on a style of buckler commonly seen from the 13th century onwards. The A&A catalog lists this as their "English Buckler", though it should be noted that the style was seen all over Europe. In fact, the aforementioned I.33 manuscript depicts similar looking bucklers, and it is a German manuscript.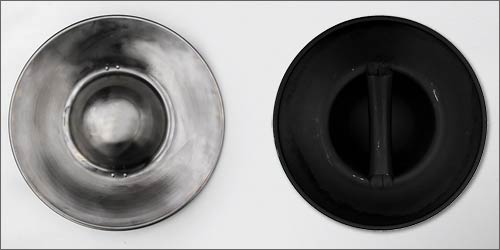 Measurements and Specifications:
| | |
| --- | --- |
| Weight: | 2 pounds |
| Diameter: | 11 inches |
| Boss Diameter: | 5 1/2 inches |
| Grip length: | 4 5/8 inches |

Replica created by Arms & Armor of Minnesota.



Handling Characteristics


I bought this buckler to replace an older, flat-faced buckler that I had been using for training. When I bought it, I did not expect it to be better or worse that a flat-faced buckler. I have since developed a strong preference for this shape.

It is a very light shield and does not feel flimsy. Quite the opposite in fact; it feels quite reassuring in hand, as the domed boss and convex face of the shield add quite a bit of structural integrity without adding extra mass or weight. It has been used against steel blunts, and the only damage it has seen so far has been superficial scuffs.

The particular shape was not the only style of buckler in the Middle Ages. There are many with flat faces, or with a round center boss but with a rim that is not convex. I suspect making this particular shape demanded more skill and effort for the maker, though. The convex design does more than simply reinforce the strength of the shield. It also has the added bonus of being able to catch a thrust for a split second, something that can potentially make all the difference between winning and losing.

Another less obvious aspect of the design is that with the lip of the shield being so forward, an oncoming sword that runs into the buckler will be at a more obtuse angle, with the tip slightly further back than with that of a buckler of the same size that does not have this shape. In other words, it is able to cover the same area that a slightly larger buckler will cover against a strike by virtue of the angle a sword blow will land on it.

It is very common in medieval sword and buckler techniques to cover the sword hand with the buckler to keep it protected during strikes. I have found that because the rim tilts forward this helps to avoid bumping into the sword while doing this. Ordinarily, with a more flat-faced buckler, I would have to angle it more to avoid contact with the sword. While there is not a huge difference, the less extraneous movement one has to process in the middle of fencing, the better.

The buckler is also comfortable to hold. There is ample space in the boss for my hand to fit without a problem. The grip itself is a sheet of steel that is rounded into what amounts to a hollow bar shape. This is round and wide enough to hold comfortably without having the weight of a solid rod.



Fit and Finish


The general shape of the buckler is very well formed. The buckler was spun to shape, a process where the buckler is ground while rotating at a very high speed. This process allows the shields to be mass produced with less time and effort involved, which helps keep the price down. The drawback to this non-historical method is that it leaves tell-tale lines, like race tracks, around the face. This does not affect function at all, and doesn't even look that bad. However, someone involved in living history or reenactment who has a high demand for historical accuracy should take note of this. It could be easily fixed simply by polishing the lines out or painting over it, but if this were done by Arms and Armor themselves then the buckler would likely cost much more. For myself, I only use the buckler for martial arts training, and therefore I prefer the cheaper cost over the higher finish.

The rivets holding the grip down are hammered flat, with no sharp spots, and the rim is rolled back so that there are no dangerous edges. For martial arts purposes this is important to help ensure safety. The rear of the buckler is painted a flat black, which is a period solution for preventing rust.



Conclusion


This buckler turned out to be a better buy than I had initially expected. Having used many products from Arms & Armor before, I was not surprised by the high quality of the piece. What did surprise me was how much I liked the convex design, which proved to work for me even better than my previous flat shaped buckler. All in all, this is an excellent buy for sword and buckler practice. The finish is the only thing that prevents this from being completely historically accurate. As mentioned above, though, this is an easy fix if it were a concern. If a customer preferred the buckler to arrive already polished, I would not doubt that something could be worked out with Arms & Armor for an additional charge.





About the Author
Bill Grandy is an instructor of Historical European Swordsmanship and sport fencing at the Virginia Academy of Fencing. He has held a strong passion (obsession?) for swords and swordsmanship for as long as he can remember. He admits that this passion comes from a youth spent playing Dungeons and Dragons, but he'll only admit that if there are no girls around.

Acknowledgements
Photographer: Bill Grandy