Arms & Armor Aunlaz Dagger


A hands-on review by Chad Arnow



Introduction


A trusty dagger was an essential item for warriors throughout history. Unfortunately, those interested in the 12th, 13th, and early 14th centuries can have a difficult time finding suitable replica daggers for kits and collections. We know the Vikings had their seaxes. Men of the late 14th century and 15th century and later had ballock daggers, rondel daggers, Swiss daggers, and a host of other forms. But what about the warriors in between: those of the 12th, 13th, and 14th centuries?

There are several problems that hinder the search for daggers. First, not many daggers survive which can conclusively be dated to that era. Second, a major source of information on knightly accoutrement, brasses and effigies, gained in popularity throughout the 13th and 14th centuries but fail to show daggers regularly until well into the 14th century. Fortunately, other period art and the few survivors help fill in the gaps.

Some daggers of this era hearken back to the anthropomorphic hilts of ancient times with guards that curve down and pommels that curve up like horns. These can be seen as fore-runners of baselards, with their hilts shaped like a capital "I". A dagger of this form survives in The Royal Armouries, Leeds while another similar dagger can be found in the Bayerisches Armeemuseum Ingolstadt, Germany. The Royal Armouries example is thought to be of the 14th century, while the Ingolstadt dagger may be earlier.



Both have guards and "pommels" that curve away from the grip and have curled ends. Both also have pieces some other metal contained in the curls themselves, typically copper or latten.



Overview


Arms & Armor of Minnesota has been supplying collectors and reenactors since 1982. While always boasting a nice assortment of daggers, they have made an effort to expand that lineup in recent years. The Aunlaz is the latest effort and becomes the earliest dagger among their offerings.

Instead of casting the hilt components like so many of their pieces, the Aunlaz features hand-formed components (minus the decorative copper or latten inserts) and a stained hardwood grip married to a double-edged dagger blade. Since similar daggers appear in period art fairly early, this dagger could work reasonably well for kits from the 12th or 13th century through the end of the 14th.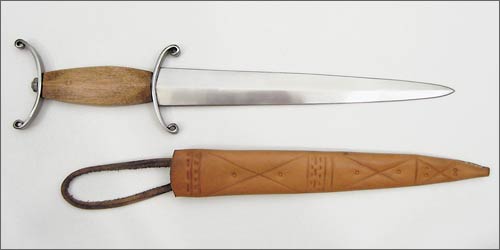 Measurements and Specifications:
| | |
| --- | --- |
| Weight: | 5.75 ounces |
| Overall length: | 13 1/4 inches |
| Blade length: | 9 inches |
| Blade width: | 1 1/8 inch at base, tapering to 1/2 inch |
| Grip length: | 3 1/4 inches |
| Guard width: | 2 5/8 inches |

Replica created by Arms & Armor of Minnesota.



Handling Characteristics


The grip is a great size for my bare hand. The facets help lock it into place, feeling very secure. With a mail gauntlet or early plate gauntlet on it might get a little tight, but should be workable for most people. The guard and pommel don't interfere with the hand at all; in fact holding it is quite comfortable.

Whether held in the point-down "ice-pick" grip or point-up, I feel the dagger would give good service. The double-edged blade is sharp and tapers to a point capable of easily dealing with flesh and with a few layers of cloth.



Fit and Finish


This dagger is rather austere in appearance. I could see it as the sidearm of a Crusader or a knight of more modest means. A fancier grip and the addition of the copper or latten inserts (which Arms & Armor could certainly do for an additional fee) would help make it the weapon of a wealthy nobleman.

The blade is nicely done and evenly finished. The guard and pommel have the character of a handmade piece, though they are not sloppy in any way. The tang is peened over what looks pretty obviously like a modified hardware-store nut, though I don't feel it detracts too much from the look of the piece overall. The grip is a nice brown color and well formed, though not perfectly symmetrical.

Arms & Armor's leather scabbards have come a long way since my first purchase from them years ago. The leather is thicker and nicer, and the belt loop fits a wider range of belts. I asked Craig for a slightly upgraded version with period appropriate tooling. Using ideas gleaned from Knives and Scabbards (Medieval Finds from Excavations in London), he came up with a simple pattern of straight lines, criss-crosses, and dots to make a very medieval look. The leather is natural in color and treated only with neatsfoot oil.



Conclusion


I'm happy with this dagger. It fills a niche in my own collection and would work well as a part of a variety of period kits I could assemble using other weapons and armour from my collection. The scabbard upgrade was well worth the modest cost; I hope Arms & Armor makes that a regular option in their lineup. For those searching for earlier daggers or unique examples, the Aunlaz should be given serious consideration.





About the Author
Chad Arnow is a classical musician from the greater Cincinnati area and has had an interest in military history for many years. Though his collecting tends to focus on European weapons and armour of the High Middle Ages, he enjoys swords, knives and armour from many eras.

Sources
Daggers and Bayonets, by Logan Thompson
Knives and Scabbards (Medieval Finds from Excavations in London), by J. Cowgill, M. de Neergaard, N. Griffiths

Acknowledgements
Photographer: Chad Arnow