A Profile of Ernst Schmidt




German Craftsman of Reproduction Arms, Circa 1870s-1930


An article by Nathan Robinson



The 19th century saw a revival of interest of objects from the Renaissance and ancient medieval cultures that influenced architecture, decoration, furnishings, art, culture, and many other things. This renewed awareness led to an intense affinity of arms and armour and from that a demand for quality affordable reproductions was born.

Ernst Schmidt, a dealer in authentic and reproduction arms and armour, purchased an atelier in the late 1870s that was then well known for its creation of copies of ancient objects in metal, glass, textiles, etc. This establishment was created in 1868 in Munich by Hugo Jubitz and exchanged hands just a couple times before Mr. Schmidt's acquisition.

At this time, not unlike today, authentic examples of arms and armour were somewhat scarce and quite expensive. Ernst Schmidt largely satisfied the demand for authentic copies within Germany until about 1930, producing a vast selection of pieces. While other reproductions were available throughout Europe, Mr. Schmidt could easily be considered among the most prolific makers of his time. In succeeding years, unwitting or unscrupulous collectors passed off many of Schmidt's reproductions as authentic pieces, and some are so labeled in major museums and collections to this day.

Despite this unfortunate turn of events, the Schmidt reproductions were never created with the intent to deceive. They were created due to a legitimate public demand and were originally sold for what they are and for a cost that reflected their modern manufacture. The fact that many Schmidt pieces have been presented as authentic originals is a certain indication of the quality and accuracy of his copies.

Copies of arms and armour are as common as copies of other works of art and are as valid a form of study and admiration as any other piece of art when presented for what they are. In no case should the collector consider that reproductions such as those offered by Schmidt are without value. Considered in their true light, they can be both decorative and educational. Pieces from the Schmidt atelier still command prices for several thousands of dollars, despite being correctly identified as recreations.

A complete homogeneous harness of authentic armour is rare indeed. When one becomes available, it is nearly always a reproduction or a composite assembled from multiple similarly styled suits. Because of the exceedingly rare nature of complete harnesses, there's been a need of quality reproductions that extends beyond that of the private collector.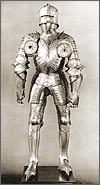 In 1931, the John Woodman Higgins Armory officially opened in Worcester, Massachusetts, showing among its exhibits a generous number of Ernst Schmidt reproductions. Authentic armour at that time was scarce and that which was available was very costly. In or around 1939 during the depression years, authentic armour from both the William Randolph Hearst and Clarence H. Mackay collections became available for purchase at affordable prices. Mr. Higgins bought 35 suits from the Mackay Estate, replacing the Schmidt reproductions.

One harness of a German Gothic style of 1475, shown at left, created in the Schmidt shop by the armourer Lorenz Kilian was left on exhibition. This suit was copied after the original armour of Archduke Sigismund of Tyrol (1427-1496) in the Waffensammlung in Vienna, which was made about 1475 by Hans Grünewalt of Nuremberg. The copy is presented near original pieces as an educational aide, offering the ability for students to contrast the two examples, noting defects, differences, and concessions in the reproduction compared to originals.

The photographs presented on this page are from the Ernst Schmidt Catalogue and Album of Reproductions of Arms and Armour. The first 11 selections of his catalog were published around 1910, before World War I. The catalog also included illustrations of military accessories such as drums, flags, heraldic plaques, hunting bags, trumpets and musical instruments and included this forward by Mr. Schmidt, himself:



As a result of my extended interest in old weapons and armour I have made reproductions of good originals from local and other museums and collections for many years. The main purpose of this endeavor is to enable the amateur of these familiar decorative objects to enjoy them at reasonable prices compared to the cost of originals. I have always attempted to make the reproduction with the greatest possible accuracy and to emphasize the artistic beauty and characteristics of the original in order to achieve a faultless result capable of satisfying any expert.

My success is verified by the various letters, acknowledgements, and testimonials as well as a large number of substantial commissions.

Money was no object in the search for a great variety of originals and models; in addition to the articles listed, new ones are always being added. Upon request I am always ready to deliver any designated weapon, either from a local or other collection.

The weapons are reproduced from the same metal as the originals, hammered from wrought iron, blades and armour of steel. Reconstructions and replacements are expertly executed.

Allow me the opportunity to respectfully offer my services to prospective patrons.

ERNST SCHMIDT
Purveyor to the Royal Court



The catalog of arms created by the atelier of Ernst Schmidt demonstrated a vast and prolific career of Mr. Schmidt and his artisans. The photos presented here are but a small sample of the many hundreds of items manufactured in the shop and are presented here not just for the sake of nostalgia, but to provide the opportunity to analyze the subtle differences, always present, which distinguish even the most faithful reproduction from its original inspiration.





About the Author
Nathan Robinson has been interested in history and the hobby of reproduction arms and armour collecting for well over a decade. A professional Web developer in San Francisco, he started myArmoury.com as a resource for like-minded people and hopes to help educate and entertain enthusiasts and consumers alike. He strives to push the sword community forward, helping create a healthy market with functional and historically-researched pieces available for us all.

Acknowledgements
Photos courtesy The Mowbray Company, Rhode Island and The John Woodman Higgins Armory, Inc., Massachusetts