---
So, I just purchased this off the SBG forum and my wife broke her foot. :( It was decided something has to go, and I haven't had time yet to even cut with this, so it's easier this way.
Last listing was sbg-sword-forum.forums.net/thread/63936/sold-angus-trim-type-xix
Specs:
Length: 38 1/16
Blade: 31 5/8
Weight: 1 lb 15.4 ounces
Edge: Sharp
POB: 4 1/4
Thickness - 5.8mm to 2.3mm
Blade Width: 33.8 mm
Grip: 4 1/4
This is a sweet little blade that feels like it would cut way above it weight. Nice and sharp and like new. I'm sad to let it go, and if it hangs around long enough maybe I won't have to.
(Update, it has hung around a week or so, and I still would prefer to sell, but if it hangs much longer I'll either keep it or trade toward a type x or other wider blade profile. Very interested in a quality viking blade. Please make any trade offer you may have in mind.)
Asking $725 Shipped to your door in the US.
Paypal preferred for other options available.
---

Attachment: 136.25 KB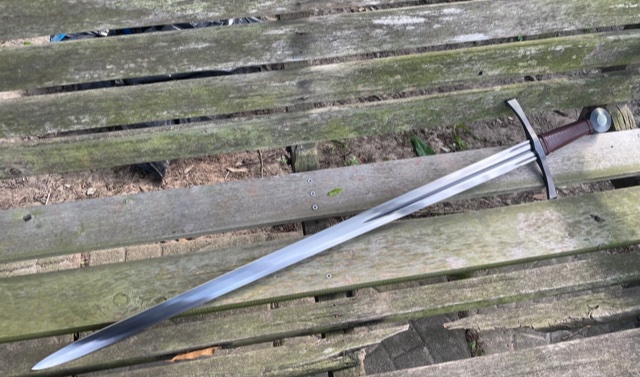 Attachment: 116.02 KB