---
I hope it's appropriate to post an offering for a Tang-era blade in this forum, which I've enjoyed for years and where I have purchased some wonderful blades (a Chevalier, a Jarl, a Doge, to name a few!).
In this case, I am selling off an excellent Jin Shi Forge custom Tang-era dao. The blade is forged of Sanmei differential steel. The scabbard is included. It has not been used for cutting.
Blade length: 30" (really 29.5" from tip to top of "habaki")
Total length (blade and hilt) approx. 41 3/4"
Handle length: approx. 11"
Weight: approx 2.4 pounds on a home scale
If you are familiar with Jin Shi, they had a top reputation for quality. Their blades are known to be very good - several reviews are around on the various forums. The scabbard is made of rosewood or a rosewood-type wood. Scabbard shows some normal, minor wear. The blade has some very minor light scratching near the hilt but nothing that some easy polish can't fix. Please read a review of their company, here:
http://www.sword-manufacturers-guide.com/jinshi-swords/
I just found out that Jin Shi is no longer taking orders and may have closed for good, which obstensibly makes this blade more valuable. In truth, my honest assessment is that Jin Shi blades can compare well to similarly styled Chinese swords that cost twice as much in terms of blade build quality and material. This was the vision of the owner, and perhaps is why they're no longer around.
The sword was custom ordered by a fellow forumite with whom I've had nothing but the best professional dealings with. Engraved on the blade near the hilt are the Chinese characters meaning "Rising Dragon". The quality of the engraving excellent.
Cost: $500 through Paypal; $15 shipping in United States, w/ additional insurance to be added based on location.
I am selling to fund the purchase a sword made by a well-known American smith. Looking forward--
---

Attachment: 18.69 KB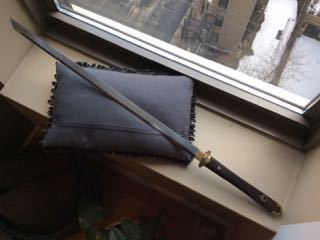 Attachment: 18.67 KB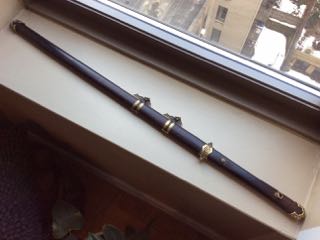 Attachment: 20.89 KB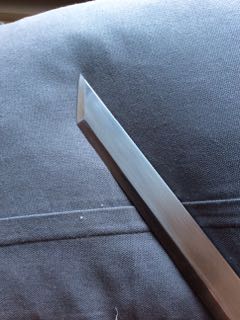 Attachment: 13.68 KB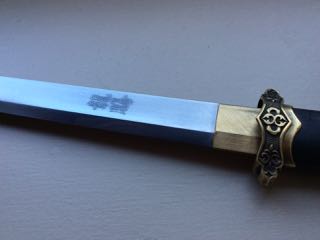 Attachment: 15.06 KB