I recently purchased the Searles Bowie made by Legacy Arms from Kult of Athena, and I really like it: The steel seems to be of very good quality as it has a sharp edge right from the box that I sharpened up with minimal effort to a near razor sharp edge.
http://www.kultofathena.com/product.asp?item=...rles+Bowie
The flat of the blade isn't actually flat as it has a very subtle hollow grind as well as the main bevel also having a hollow grind. There is some
distal taper
to the blade and it balances at the guard, this makes it a very fast knife but optimized for draw cuts. A camp tool might be better with a bit more forward balance but this is really a fighting knife as one would expect from one of the " traditionally believed " original Bowie knives, or at least a version that Rezin Bowie had made as presentation knives and may have used himself.
The one Jim Bowie used in the Sand Bar fight may have been different and just a large butcher knife, and maybe by the time of the Alamo it might have been replaced by a knife like this ? Mostly speculation, I believe, and I'm writing this from memory so it would be good for people to do some fact checking.
The pics on the KoA site are pretty good, but I took a few pics myself to show it in hand.
This seems to be a very well made copy of the original, but in that case the only criticism I would have of the original is that the handle would be better with an oval cross section rather than a round one for easier edge alignment in a cut.
The blade is 3/16" thick at the guard and 1/8' thick near the point.
Oh the scabbard is a perfect fit holding the blade in the scabbard even when the scabbard and knife are held up side down, and even a bit of shaking doesn't make the knife fall out of the scabbard. At the same time a firm tug on the handle is enough to pull out the knife: The scabbard may have been a little tighter when I first got the knife but the scabbard just loosened up just a bit, but not too much even after having the knife for a few months and many cycles of pulling out the knife. (
Can't say if all the Legacy Arms knife/scabbard Searles Bowies have this near perfect fit, but mine does have it
;) :D :cool: )
As usual customer service by Kult of Athena was excellent.
---

Attachment: 104.7 KB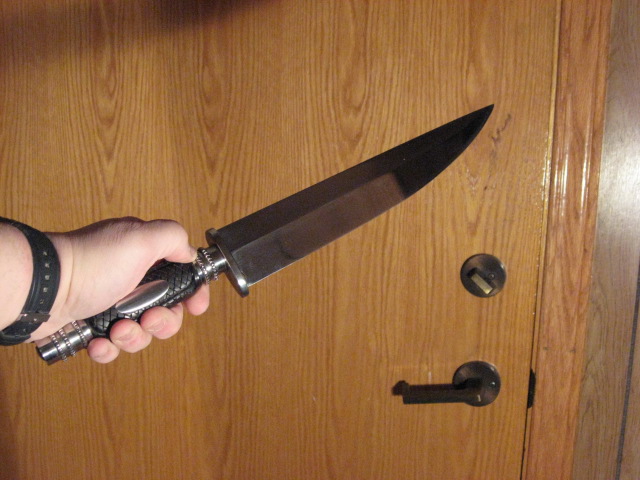 Attachment: 109.61 KB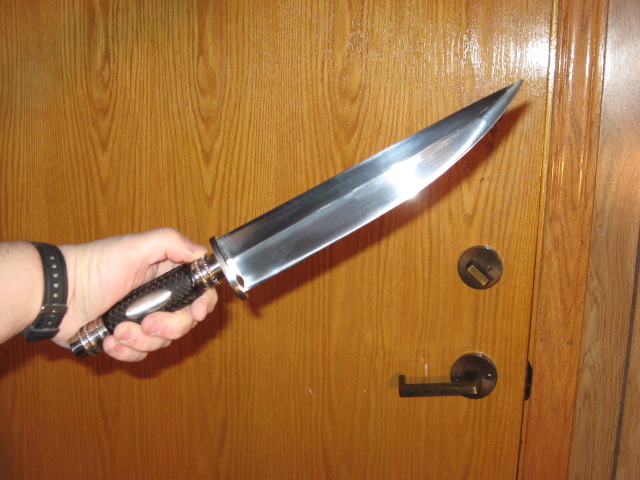 Attachment: 97.19 KB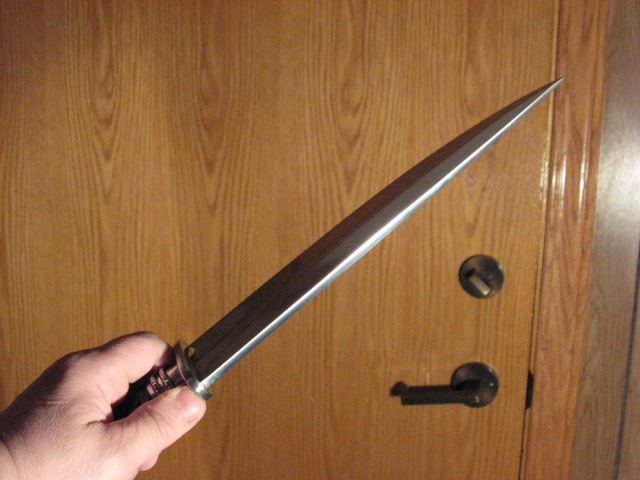 Shows the thickness of the blade and distal taper.