---
I'm fall-cleaning and decided to part with this very pretty project. Asking only $325, including shipping in CONUS, because the Angus Trim blade is faintly pitted all over and the piece is not based on any particular sword--its from my (informed) imagination, but reasonable for a German sword of the mid-to-late 16th c. I'm always interested in full or partial trades, with cash thrown in by you or me to make up the difference in value. :D Offer me a good quality used sallet (esp. the deep German kind with integral sight) or
burgonet
(not Windlass,) a Windlass Auray or Venetian and we can work out a deal.
The blade is by Angus Trim. The pommel and cross are heavily altered Windlass Steelcrafts. There's a lot of handwork on the cross--shortening it, taking out the vertical "S" curve, adding as much horizontal curve as I thought it could take, removing the inboard ring, refining,
polishing
and bluing. The pommel is secured by a peen over a plain nut. The hilt is secured with brass wedges and JB Weld. The piece rings when the blade is tapped, so apparently I didn't miss any points in construction. The new leather-over-wood grip is very refined and complex in section.
This is a cut-oriented sword, with a POB just under 5" below the cross. It feels wonderful--light but authoritative. Seems like it'd be just right for use with a buckler or target.
I was handling this piece last night and almost decided to keep it because it looks and feels so nice and because I think it would also be reasonable for early English colonists, which of special interest to me. I have the A&A Town Guard, though, and that serves the same purpose in my collection and I plan to blue that as well. I have another blued German sword on the way, too, and that pushes this one out, albeit reluctantly.
---

Attachment: 144.92 KB


Attachment: 35.23 KB



Attachment: 102.79 KB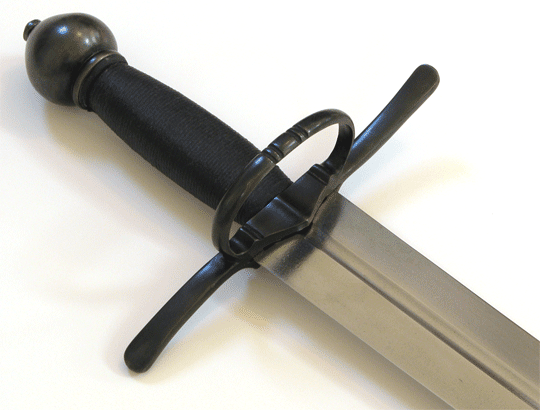 Attachment: 143.61 KB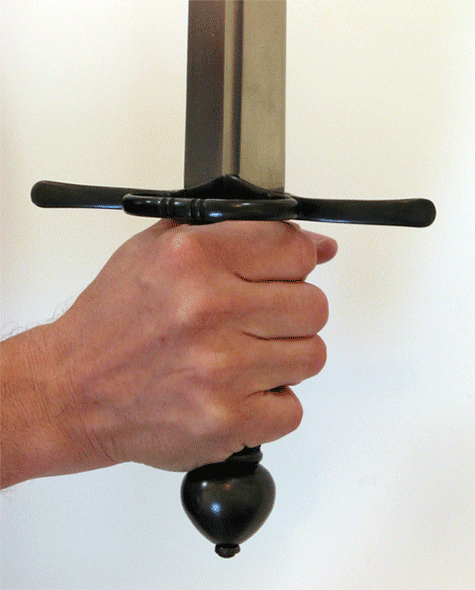 Attachment: 143.65 KB