Hello everyone!
Two weeks ago I received my new rapier from Darkwood Armory, and today I finally took the time to snap a few photos of it...
I'm a bit of a novice when it comes to rapiers, so this will not be a detailed review since I can't really compare it with anything. I ordered this sword as a practice weapon, that is, something that I will not be afraid to scratch, bend, and watch television casually with :)
I have two rapier manuals here, and I wanted something compatible with both. These are Girard Thibault's
Académie de l'Espée
and Tom Leoni's translation of Salvator Fabris'
Lo Schermo, overo Scienza d'Arme
. Thibault is a lot more specific than Fabris about the weapon, so it was my main reference here. Finally, given my stature, I went with a 42 inches bated rapier blade.
The biggest concern was the hilt. My artistic preference drives me to a swept hilt, but as discussed in
this thread
, there are doubts about the possibility of Thibault's moves with anything other than a half-hilt (due to the special hand position he advocates).
In a spirit of conciliation, I decided to order both :D So I chose a 3 ring swept I guard and a two-port cross guard I, according to Darkwood's terminology. Other details include acorn pommel, wire wrapping and straight quillons with three-lobed tips. I sticked with the standard finish as it was not meant to be ornemental at all.
I was very satisfied with the order process, and the sword arrived in good condition. The packaging did suffer a bit and was pierced by the quillons, but apparently they were more solid than whatever they met outside ;)
I have been interested in the dynamic properties of the weapons for a long time now, and I was curious to know where my new rapier would land. Quite logically, it appears to be somewhere between my Milanese rapier from Arms&Armor (more a cut and thrust blade than a pure rapier) and my foils. Closer to the Milanese rapier, in fact. I don't have scales at home so I cannot give the weight with a decent precision. It is definitely lighter than the Milanese rapier and heavier than my boken, so I suspect it is around 1 kg. I'm not aware yet of any big modification caused by changing the hilt. The pivot point associated to the middle of the ricasso is close to the tip, giving a good tip control. The
center of gravity
is located 11cm at the front of the quillons, and the perceived blade mass is quite low. The pivot point associated to the back of the handle is a bit further away than on the Milanese rapier, giving a bit slower track in cutting motions. But that's to be expected given the length and purpose of the thing...
All this being a complicated way to say that it is not a cutting sword, but that you can hold it in extended guards easily, and that you control the tip perfectly... So I guess that's right for a rapier ;)
The blade, as I said, is 42 inches, so 106.7cm, and the overall length, pommel to tip is 121cm. The quillons span is 25cm on both hilts. The blade is a bit more supple than what would be expected, I think, of a true weapon, but that does not really affect handling. Despite the blunt tip it is quite capable of piercing already, so if it was sharp, it would still definitely be a dangerous weapon...
Changing hilts is really easy, and once the pommel is screwed back the assembly is very tight. There are grinding marks on the hilts and blade, of course, but the finish is quite pleasant, which is just what I expected. And any sharp angles that could be dangerous for the hand were removed carefully.
This rapier already allows me to experiment with the various grips, and I have found that Thibault's grip can indeed be practiced with a swept hilt as seen in the photos below. I'm unsure however that it allows the full range of motion that Thibault uses, but I'll have to study it further...
The flat surfaces on the half hilt make me think that I could try do some engraving there; however, this is more of a long term project...
Overall, I'm very satisfied with my new acquisition :cool:
Regards
---

Attachment: 122.95 KB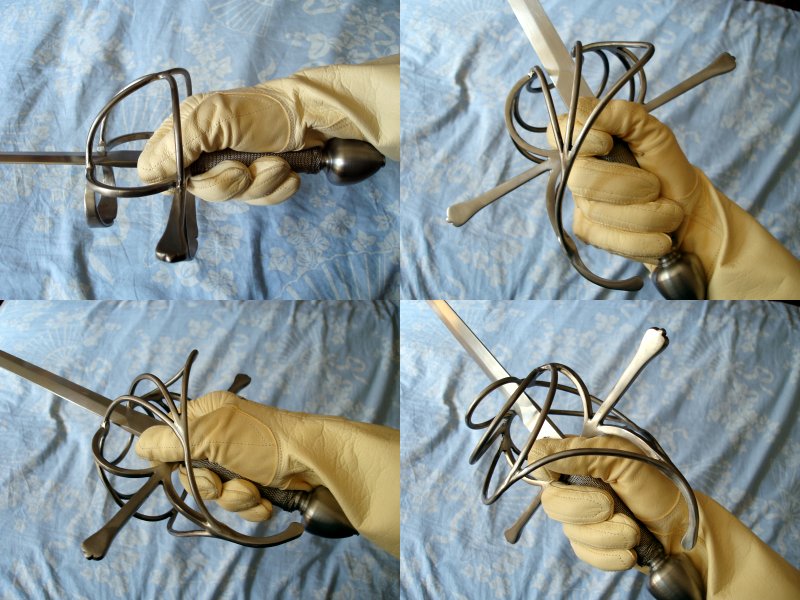 Various grips. Top-left: Thibault's grip (index over the false edge quillon, thumb over the true edge quillon); Top-right: the common rapier grip; Bottom-left: Thibault's grip on a swept hilt, the knucklebow faces left; Bottom-right: a cut with Thibault's

Attachment: 69.41 KB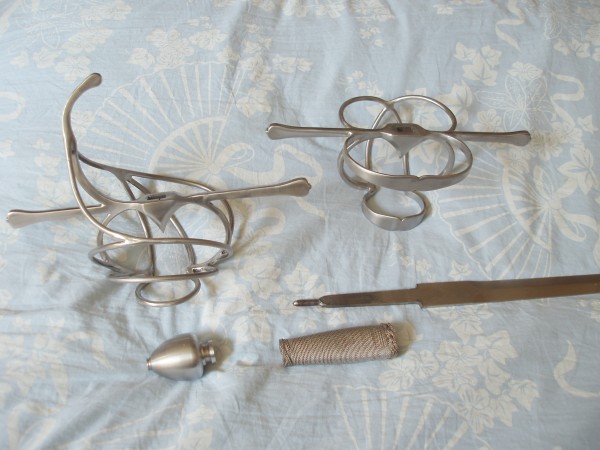 The parts of the sword.

Attachment: 87.25 KB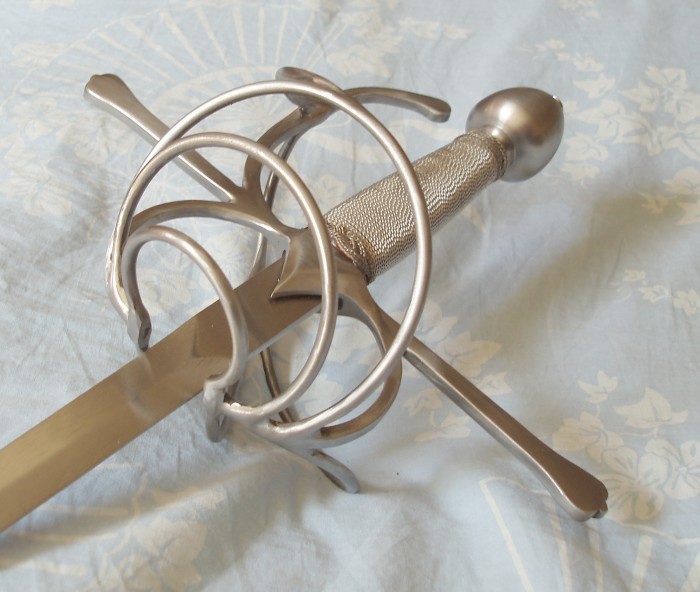 Perspective view of the swept hilt.

Attachment: 103.73 KB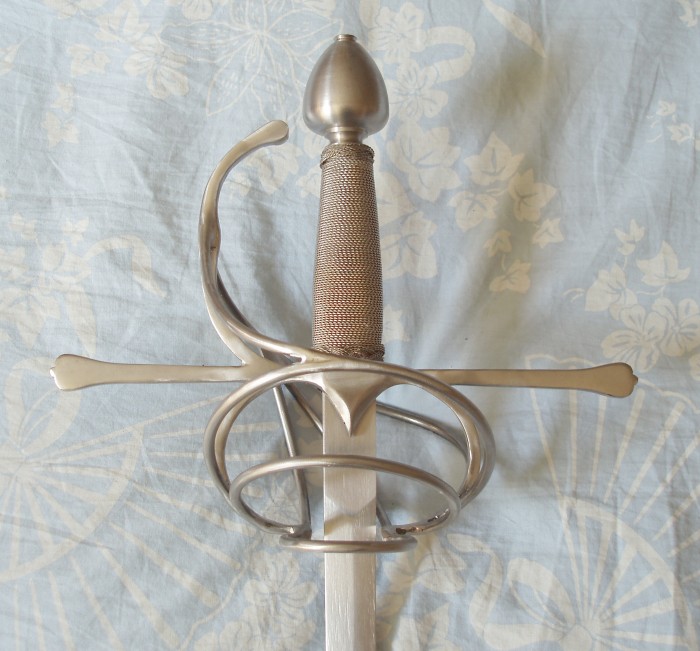 Front view of the swept hilt.

Attachment: 87.93 KB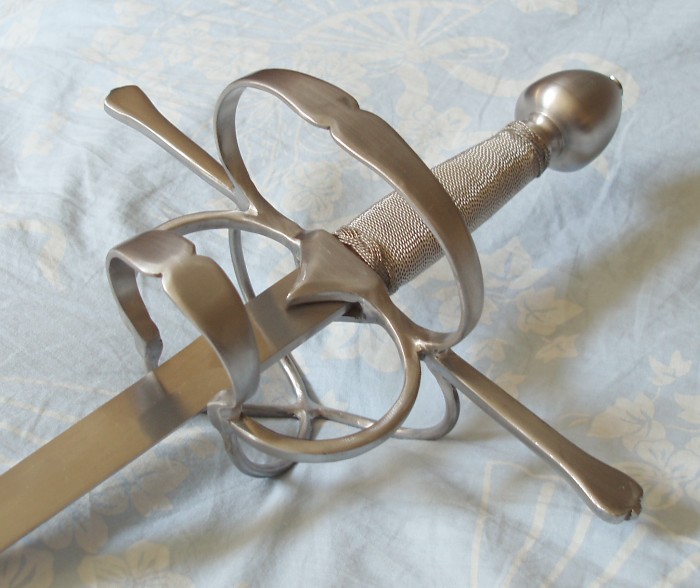 Perspective view of the half hilt.

Attachment: 94.78 KB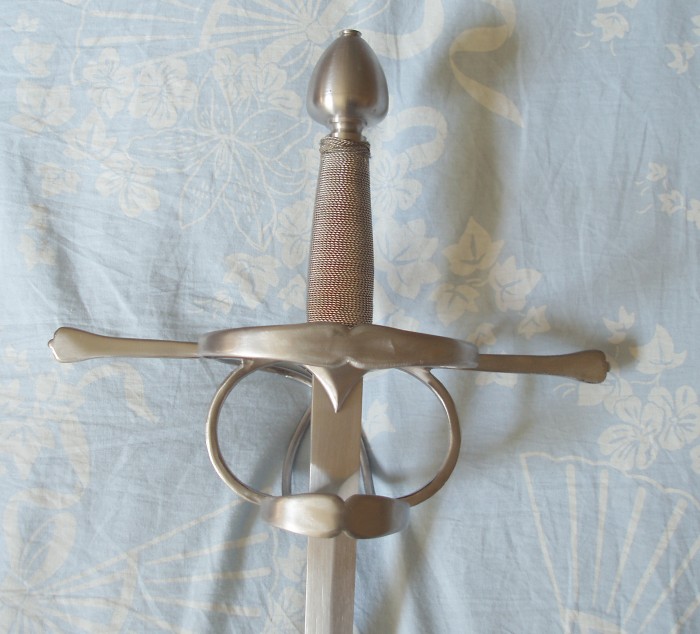 Front view of the half hilt.

Attachment: 88.48 KB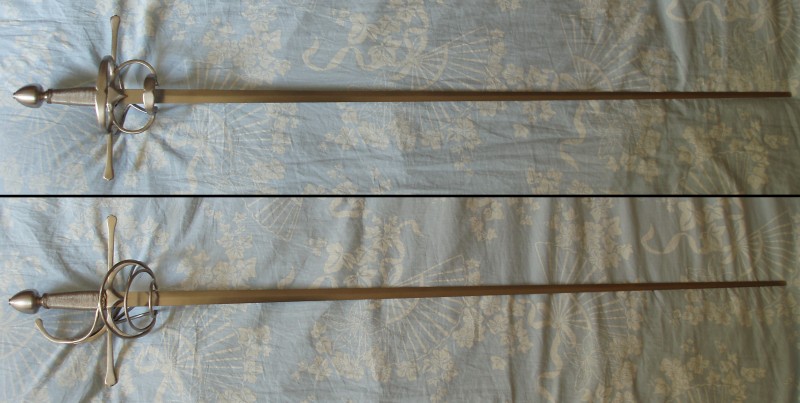 Overall views of the sword, top: half hilt, bottom: swept hilt.