Hello all!
I purchased Museum Replica's hurlbat several years ago (the plain one they had for a while), and I've always wondered if the handles on these medieval throwing axes would be wrapped in leather or cord, possess wooden scales like some knives, or otherwise covered in some fashion. I am aware of some drawings of hurlbats in
Medieval Costume, Armour, and Weapons
by Eduard Wagner, Zoroslava Drobna, and Jan Durdik that show a "swelling" of the metal in the handle area. I would think that this would make a better grip than the flat handle on other examples, and the MRL piece. I find the handle to be uncomfortable in the hand, and think it would make a better throwing weapon if the handle was a bit thicker.
So, does anyone here know of any examples in art or museums that show any trace of having a separate grip material attached to the metal of the handle? Or, should I just go ahead and cover it anyway, and say, like all MRL offerings, it's only roughly similar to the historical examples. (Of course, I'm not actually going to be
using
it any time soon; I currently live in a home with a shared yard. I don't think the neighbors would appreciate an axe through their window!)
I've included my computer-generated drawing of the MRL hurlbat so it's clear what I'm talking about.
Any help in this matter would be greatly appreciated!
Happy
Holidays!
---

Attachment: 14.9 KB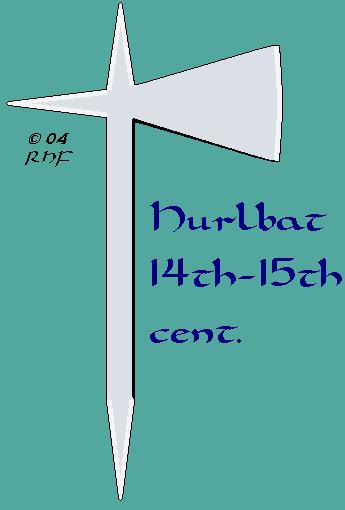 Hurlbat - Medieval Throwing Axe