Occasionally, Kirby is able to fill a special "rush" order and this was the case with this "Viking Wedding
Axe
". So named because the customer needed it for an upcoming wedding and there was not much time between initial order and shipping it out to have it in time.
He liked the small inlaid "skeggox" handaxe from our website but wanted a single/double handed style. He did not want it blued nor polished. So the option was the "grey" finish you see. He runs an
AxeForum
and this is what he said after getting it:
Quote:
Well today the postman arrived with my two handed bearded axe and I thought i'd share with you some pics, the axe weighs in at 3.5-4lbs but when you hold it, it feels like its in the 2lb range, overall length is 36" the axe head is sharp and it has a rustic look to it with a dull "grey" metal finish

and looks like its seen battle with some brown almost dried blood stains on it.


Hehehe...like that last description. Well, he asked if our axes were fully functional and not just for "show". The stains were a by product to obtain the "grey" metal finish and the head was varnished. The weight, he gives, is overall (axehead and haft) But the balance is a result of Kirby's skill making the head shape/style and haft length. A very "lively" single handed "feel" that translates well for doublehanded use too.

But then, Kirby is known for making weapons with that "alive" feeling.

---

Attachment: 88.7 KB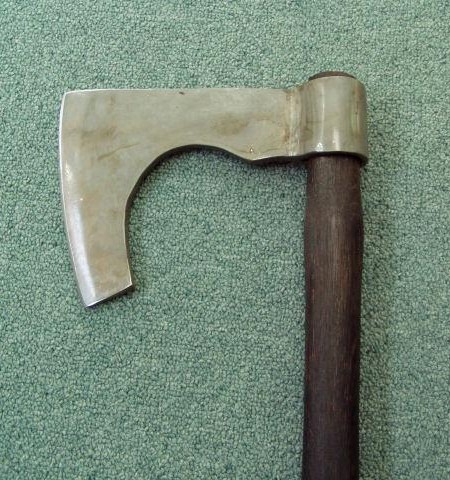 Viking "Wedding" Axe

Attachment: 35.87 KB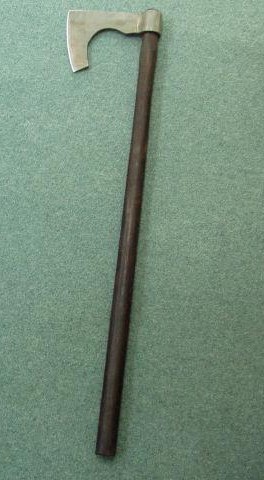 Full length