---
This is a katana made by Howard Clark, polished by John DeMesa, with custom fittings by Patrick
Hastings
, and assembled by the guys at Liveblade. This is your chance to get a HC katana, without the wait, and priced before he made the $1000 mark up on his blades. I love this sword, but I need funds for other projects.
I am asking $4550 for this sword. I have taken $35 off of the price that I originally paid for it. This is what I payed for everything:
$3200 for the blade and polish
$540 for the fittings (fuchi, koshira, menuki, seppa, tsuba, koiguchi, kojiri, shitadome)
$845 for the tsuka and saya
Subtract $35 from above, and you get your total: $4550. I will cover the shipping, and I will also throw in a sturdy oak sword stand from Bugei, worth $40. You can pay me by money order or Paypal.
The blade is 1086M (mono-steel), and has never been used for cutting. The fittings are darkened forged steel w/ silver habaki, seppa and shitadome.
The nagasa is 27", but from tsuba to tip, it is just under 28". It's a stout blade, at a little over .25" thick at the mune-machi. The tsuka is 10.75", has two mekugi pins, and gyaku-menuki (under the palms). This sword has a very solid feel, with powerful blade presence.
If you have any questions or want to see more pictures, just let me know.
---

Attachment: 61.08 KB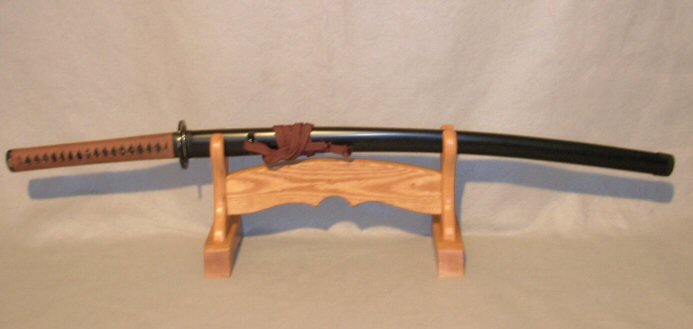 Attachment: 100.05 KB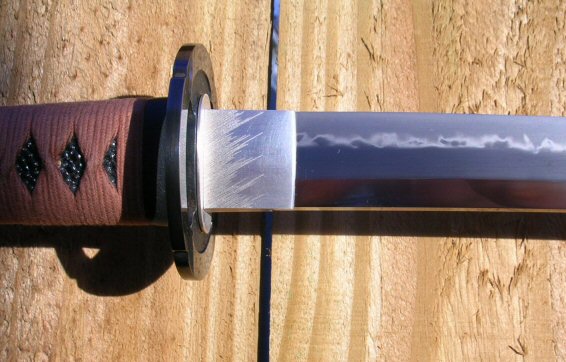 Attachment: 60.74 KB
[ Download ]