---
I'm selling this type XIIA made by Gael Fabre. It is 3 month old, iis in pristine condition, never been used.
It's a beautiful recreation of a museum artefact of german origin and dated circa 1350. This exemple of relatively late type XIIa is very handy for is size and weight. The big pommel definitely contributes to a comfortable balance of the sword.
I bought this one for 1800 euro (+ 12 months of waiting time).
I'm asking 1700 euro or 2000 $ for it. The sword will be send in his original secured guncase.
I prefer wire transfer. If PayPal, please add 3,40% for covering the fees.
Specifications:
blade lenght: 95.5 cm (37,6 in.)
blade width at base : 5,2 cm (2.047 in.)
PoB: 9,5 cm (3,74 in.)
grip lenght: 18 cm (7,08 in.)
weight: 1759 gr. (3Ib 14oz)
---

Attachment: 24.38 KB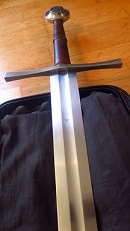 Attachment: 43.62 KB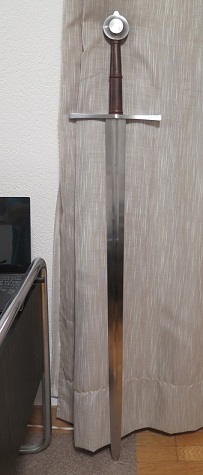 Attachment: 134.08 KB
[ Download ]


Attachment: 196.04 KB
[ Download ]