Hi All,
I'm looking for some help & hoping to spark some discussion. I am in the process of making a scabbard for a sword with a brazil nut pommel (
Geibig
Type 16 Var I.) and have been searching high and low for information on scabbards from the 11th century. It seems to be a bit of a dark age for scabbards. On either side of this time there seems to be much more information, but for the 11th century specifically there is very little.
My questions are as follows:
Can anyone add any sources to this search?
Are there any extant fragmentary examples hiding away that I have not come across? (pretty sure there are no complete examples)
How do you interpret the evidence available in manuscripts etc.?
What do you think of my ideas below? Comments? Corrections?
What are your thoughts on leather vs linen for this period?
Can you point me to any examples of 11th century leatherwork?
To me it seems like one of the best sources during this period is the Bayeux Tapestry which unfortunately doesn't provide much detail. There are however a few bits of important information that can be gleaned from it.
1. Sword belts were attached to the scabbard.
[ Linked Image ]
2. Sword belts are fastened with buckles.
3. Sword belts are wider than Viking era belting, but more narrow than later integrated belts or even many of the later 12th century vertical hanging sword belts. I would estimate about 1-1.5" wide.
4. There is some sort of feature at the top of the scabbard. These almost appear to be throat hangers because of the pixilated nature of the embroidery. All that can be drawn from this is there is something going on here that takes up a few inches near the top of the scabbard.
[ Linked Image ]
5. Sword belts are worn tight around the waist and swords do not hang straight down. This is in contrast to the 12th century scabbards talked about in the topic linked below which are often shown worn 'gun slinger low' with a second belt above at the waist. This angle implies some type of offset belt to accomplish it which I will touch on below.
[ Linked Image ]
6. This one may be a stretch, but it appears that the scabbard colors vary quite a bit. I'm not sure this can be trusted as the colors of other items such as the unsheathed swords are multi colored as well.
Based on these points and the images from the Bayeux Tapestry I have been able to find some early 12the century miniatures that have features that seem to match. Here are a couple of examples.
https://manuscriptminiatures.com/4524/11342
https://manuscriptminiatures.com/4111/12073
https://manuscriptminiatures.com/5812/22555
https://manuscriptminiatures.com/4814/11894
https://manuscriptminiatures.com/4112/12074
Based on what I am seeing in these depictions there are a few additional conclusions that can be drawn:
7. The belt can come from the front side of the scabbard.
8. The cross appears to made of the same piece of material as the belt.
9. it appears to me that many scabbards retains an almost vestigial slider which the belt is laced through and then crossed around the scabbard. This would make sense given that scabbard belting styles in the preceding centuries included a slider. (perhaps in cases were the slider is not shown on the front and the belt comes from the back side it is worn with the slider on the inside)
If I am correct about what this appears to be, perhaps this lacing method came directly from simply lacing a scabbard with a slider in a new way and doing away with the second attachment/distributor. (see my basic examples below. The duct tape is representing a slider)
Regarding the angle of the scabbard / offset belt, based on my simple tests it appears that just having the belt wrapped around the scabbard with the forward end laced on top as it goes through the slider, and the rear on the bottom combined with wearing the belt tight, it will give an appropriate angle to the sword/scabbard. It's hard to fully test this without actually making it, but it seems like it would have the right effect.
This is pretty much were I am with this at the moment. Would love to hear your comments and answers to the above questions.
Here are some other related topics:
For 12th century scabbards and suspension this topic has some great discussion and examples but it doesn't appear that these same styles & conclusions can be fully applied to the 11th century.
http://myArmoury.com/talk/viewtopic.php?t=304...y+scabbard
Thread on suspension, but with more focus on 12th century:
http://myArmoury.com/talk/viewtopic.29745.html
---

Attachment: 73.41 KB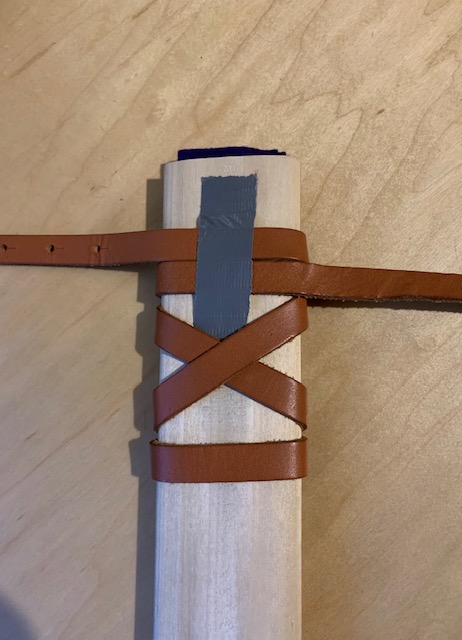 Possible cross variation

Attachment: 76.55 KB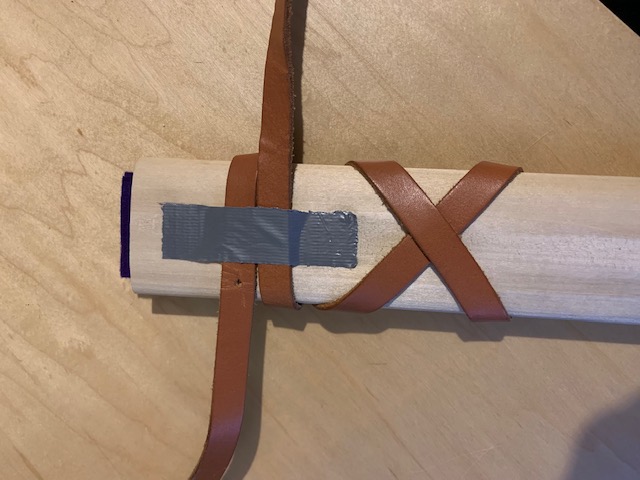 Possible cross variation

Attachment: 80.01 KB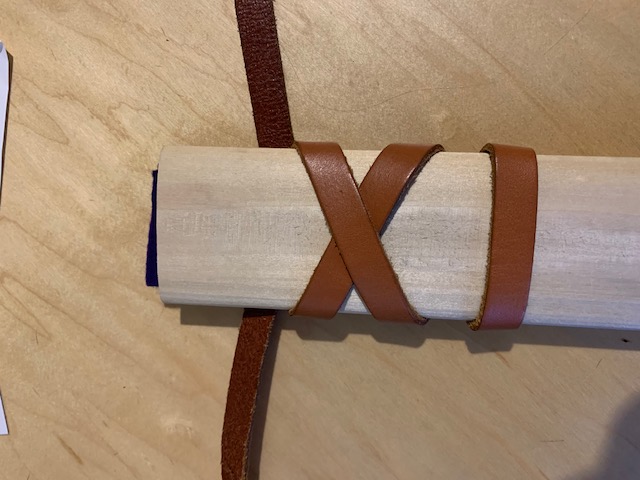 With the slider on the back.

Attachment: 63.56 KB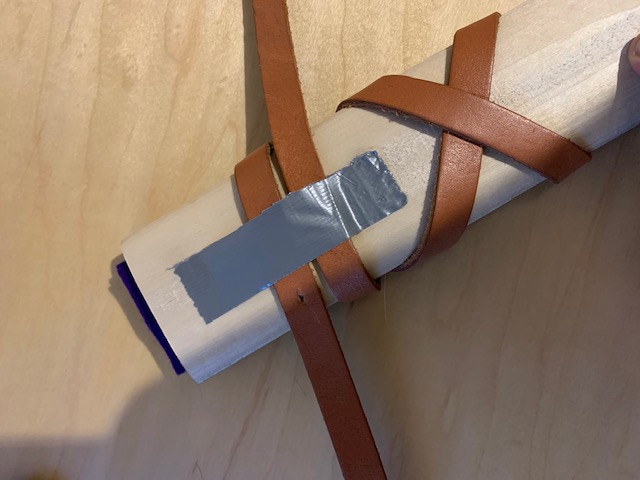 When pulled tight the scabbard rests at an angle.