---
Used. Some scratches on the blade, not sharp but can be easily sharpened.
Goes for $304.95 + shipping on koa. Selling for $110 + shipping.
Specifications and definitaion from koa:
Overall Length: 34 5/8'' Blade: 28 3/16''
Retail Price:$459.00
$304.95
Blade: 9260 High Carbon Steel
Weight: 2 lb 1.5 oz
Edge: Sharp
P.O.B.: 5 1/8''
Thickness: 4.7 mm - 2.2 mm
Width: 55 mm
Grip Length: 4 1/4''
Pommel: Peened
This early 13th Century Arming Sword by Kingston Arms was made in cooperation with Angus Trim, who gave advice, insight, and corrections for a line of production swords made with his principles of emphasizing performance at the forefront. This emphasis on weight, balance,
distal taper
and harmonics all combine to make a cut-and-thrust sword that is an agile, quick-striking blade with excellent cutting abilities.
The blade is forged from 9260 high carbon steel. The crossguard and pommel are antiqued stainless steel and the wooden grip is overlaid with cord and bound in leather. A peened tang secures the hilt to the blade.
The companion scabbard for this sword is of wood which is bound in leather and fitted with a protective steel chape.
As one would expect of a sword with great influence from Angus Trim, the weight and balance of the blade are optimized to ensure that the blade simply feel ''there'' in the hand, without feeling overly tip or hilt heavy. The notable distal taper ensures that a thin main cutting portion of the blade will cut into a target with minimum drag to maximize cutting efficiency.
Video reviews:
https://www.youtube.com/watch?v=QP9So3ULu_U
https://www.youtube.com/watch?v=E2Ej6yM2mPg&t=103s
Shipping only in the U.S.
---

Attachment: 113.28 KB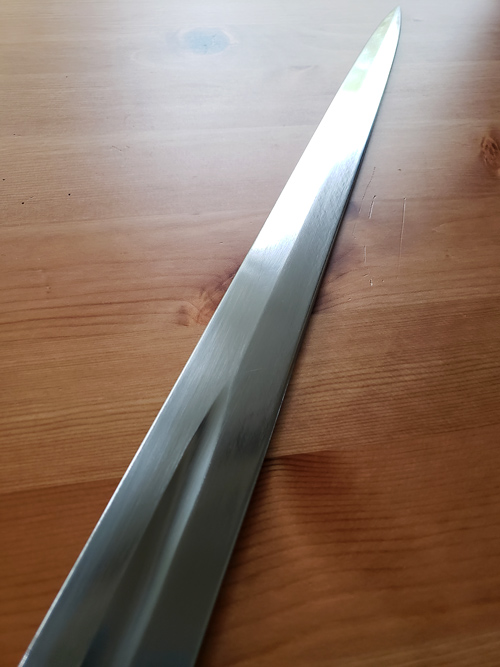 Attachment: 104.01 KB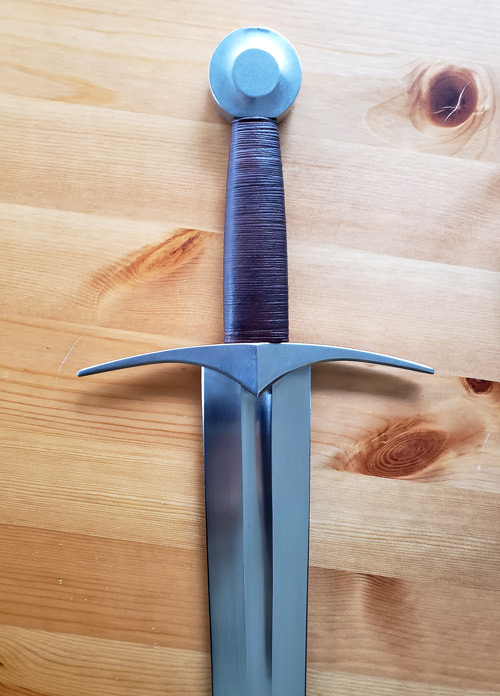 Attachment: 96.52 KB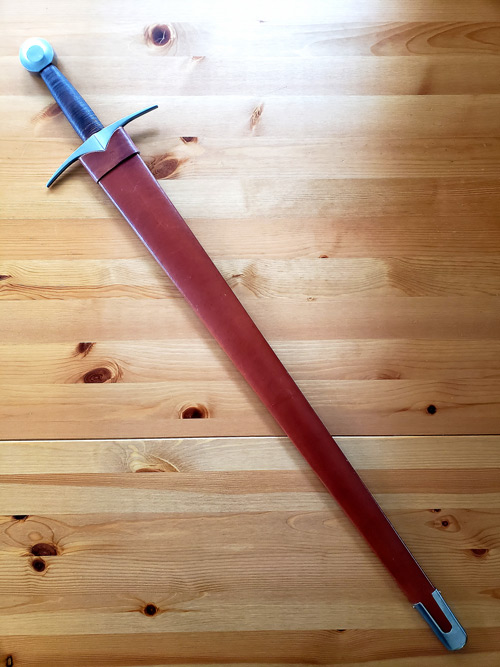 Attachment: 110.87 KB