---
Time has come to change my armour, so I sell my current. Used, but in very good condition with only one scratch on left spaulder.
All is made of 1.5 mm spring steel (type of steel for reenactment) hardened to cca 46 HRC. Polished to matt finish, but after some cleaning and
polishing
the armour starts to "shine" in white color.
Arms permanently connected to spaudlers with leather straps, based on Mikulas Gorjanski (Garay) tombstone (1382) - 400 Euro
Full greaves based on churburg original piece - currently used only shins, disconnected front and calf piece (riveting needed to reconnect them again) - 300 Euro
Articulated knees based on churburg original piece with splinted cuisses (made of 3 mm leather, 1.5 mm steel, thick brass rivets, brass buckles) - 300 Euro
I am 187 cm high and 105 kg weight. If you are interrested in more details (photos, measurements) please write me a PM.
Made by famous czech armour maker Stanislav Prosek.
Prefered payment by paypal or bank transfer. Prices without shipping from Slovakia.
[ Linked Image ]
[ Linked Image ]
---

Attachment: 85.95 KB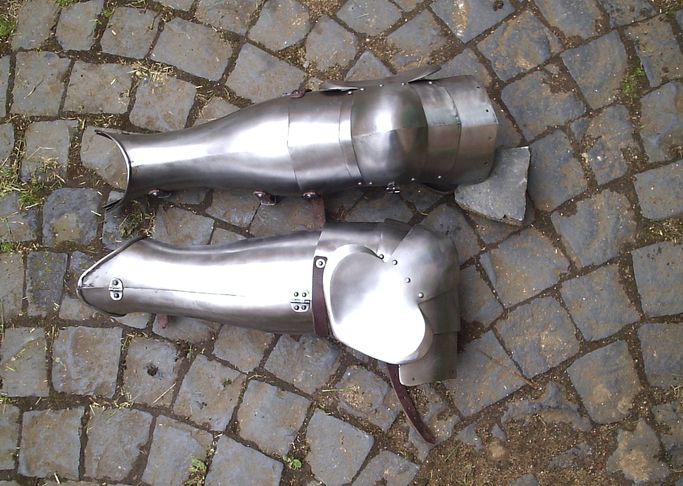 Attachment: 287.19 KB
[ Download ]


Attachment: 287.65 KB
[ Download ]


Attachment: 254.16 KB
[ Download ]


Attachment: 247.75 KB
[ Download ]


Attachment: 276.28 KB
[ Download ]