---
This is a moved into a new house sale. I'm just getting rid of excess items.
Bought for $125 back in 2017. Will sell for $100. Shipping included in US. You won't have to wait the 4+ months it takes to get one of these. PM if interested.
Used for cutting of light branches once. There are no scratches on the blade and it is still sharp. The blade could use some
polishing
as it's been in storage in it's scabbard for the last 4 months.
The best way to describe this khukri in the hand is neutral. Very well balanced it just feels versatile like it will do anything that you asked of it. It has a nice rustic feel. Stats are below from Tora's website. Unfortunately, I lost my scale during the move so I can't weigh this one. OL is approximately 18". Blade is about 13 1/4" long & about 1 7/8" deep. The Kiranti fits loosely in the scabbard and will fall out if you flip it upside down. I will include all the authentication paper work with the sale.
https://torablades.com/shop/tora-limbu-kukri.html
The Tora Kiranti (Eastern style) kukri generally has a 34cm long blade with a 4.7cm belly and a rough weight guideline of 500-575 grams. It has a stick tang wooden handle and comes with a scabbard and frog, as well as Chakmak & Karda utility knives.
Pics are below. I can always take and send more.
---

Attachment: 48.29 KB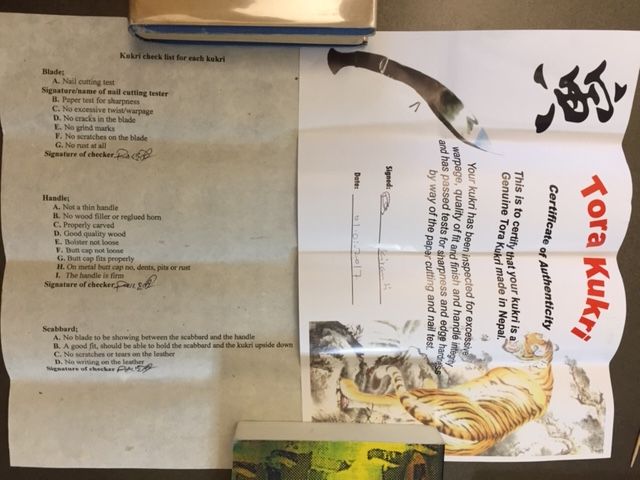 Attachment: 49.17 KB