---
I've decided to sell every sword I currently own to help pay off something so today I have my Mark Green 4 Fuller Bloom pattern welded Spatha with historical migration period fittings and scabbard, Mark made this sword from scratch, from everything including the 40lb of ore he dug up to forge the blade to the fittings which he carved and the scabbard. Fittings are black horn and bronze with moose antler grip spacer.
The blade is forged via Bloom which is incredibly intensive and Mark is probably the only person in the world who does it as it took 40lbs of ore just to make a 2lb sword. There is a world serpant symbol as well as a sun symbol carved on the pommel caps as well as other historical designs surrounding them.
The symbol of Tyr is also inlaid on the blade in silver and will come with custom scabbard which also has a world serpent design on the bronze locket, has a baldric and a chape in bronze as well as bridge.
For this piece I paid more then this but I am looking for $2000 shipping in the conus. Payment Via Paypal F/F or add 4% for fees. International pls pm me for shipping prices.
---

Attachment: 32.89 KB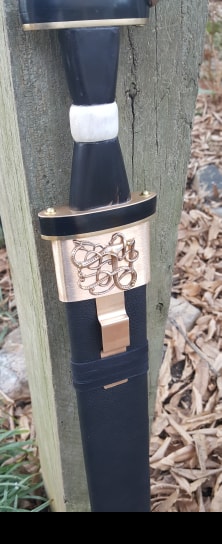 Attachment: 71.44 KB
[ Download ]


Attachment: 93.23 KB
[ Download ]


Attachment: 116.31 KB
[ Download ]


Attachment: 82.65 KB
[ Download ]


Attachment: 83.2 KB
[ Download ]


Attachment: 52.75 KB
[ Download ]


Attachment: 73.36 KB
[ Download ]