---
Continuing yearly cleanup of my knifemaking projects. I am a hobbyist / DIY maker.
This is a reproduction of Landsknecht Dagger of Saxon type (late XVIc period), I made it with a modified Arkansas Toothpick blade from Atlanta Cutlery.
Short description:
Dagger: 12" long blade; 5" handle is poplar wood covered in ray skin (I used part with small "nodules" so it looks close to sharkskin on the original in Metropolitan museum). Laquered black, again as original. Crown shaped collars are mirror polished nickel silver for nice contrast with the black handle. Same for the decorative top plate and button. Guard is blued mild steel (1018). Pommel is ebony wood, with decorative top plate and button over which tang is peened.
By-knife and bodkin handles match the dagger's in construction and style pretty closely.
Bodkin: overall length 7", handle just a bit over 3.25". Handle is round in
cross-section
, almost exactly 0.5" diameter. Just as dagger's, it is covered in black ray skin and has nickel silver crown shaped collars (caps, actually). Blade is square in cross-section, tapering to point from round 0.25" diameter at the handle.
By-knife: same dimensions and handle construction as bodkin, very sharp Mora carbon steel blade.
Scabbard: poplar wood core covered in black leather; mounts are nickel silver. Construction and decorative elements are mostly very close to the historical examples I found (the simpler ones, without heavy ornamentation). Has two belt loops on the back of the scabbard (exactly like on the originals, for example the one in the Metropolitan museum), to be worn horizontally at the back, handle to the right.
I am attaching a few small pictures here but better quality pictures are at
https://public.fotki.com/aindman/saxon-dagger-or-lan/
Also there are more pictures, design/construction details and discussion of historical examples/usage in two threads:
http://myArmoury.com/talk/viewtopic.php?t=294...ght=dagger
http://myArmoury.com/talk/viewtopic.php?t=294...ght=dagger
You may find these threads interesting to read even if you don't buy the dagger.
Overall - the blade is simple and not exactly historically correct (though absolutely functional); what really makes this dagger unique is the very nice handle, matching by-knife and bodkin, and historically correct scabbard for all three, with extensive nickel silver mounting. You just can't get anything like this set anywhere, short of going full blown custom project with a professional knifemaker. And such a project would be seriously expensive, especially scabbard, aren't many makers around willing to bother with this very labor intensive type.
Asking $275, shipping included (continental US).
Preferred payment method is by PayPal.
If you are interested, feel free to ask any questions.
---

Attachment: 111.33 KB



Attachment: 235.53 KB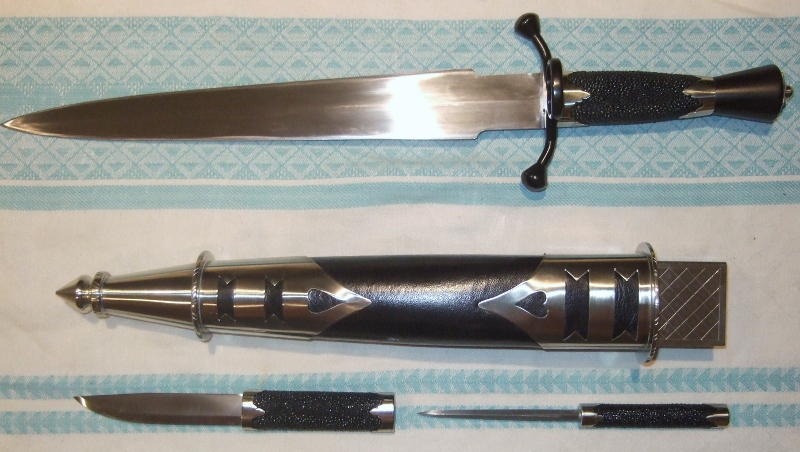 Attachment: 183.13 KB