---
I have for offer a brand new in box full titanium brig. This masterpiece was crafted by Master Михаил Ска. This armour is a reproduction of the brig from Tyrol. It is approprate for late 14 and early 15 century. The armour offers superior protective coverage, is incredibly light weight and has wonderful bio-mechanical properties due to the fantastic articulation of the overlapping, individually shaped 1mm plates.
In terms of size, this armour is very adjustable. My friend who is 6', 210 lbs with a 44" chest had no problem getting into this, but it can definitely work for someone smaller or a bit larger than that. The fellow in the images below is probably around 5'8", 160 lbs. The overall length of the bring is aprox. 24" of plate coverage, however the fabric extends another aprox. 2" below the last row of plates.
Please NOTE: only the torso protection is for sale. Asking $600 obo. I accept PayPal. Buyer pays shipping.
---

Attachment: 15.93 KB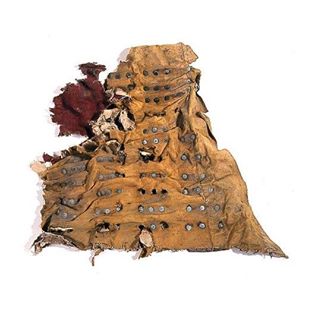 Attachment: 161.64 KB
[ Download ]


Attachment: 86.5 KB
[ Download ]