---
Hello,
I Have up for sale and extremely MRL rare Windlass Guingate sword for sale. I have had this gorgeous piece in my collection for over 2 years The pics speak for themselves. I also can make photocopies of the sword from the MRL catalog. the scabbard is not included. Here are the Specs on the sword:
-Overall-40"
-blade-33-1/4"
-Wt.-2lbs.
In 1479, King Louis invaded the Netherlands, where he was met by the Emperor Maximilian. In the short, bloody battle, the French Cavalry defeated the Imperial horse, but in the end the field was held by the Flemish infantry , with the Emperor fighting on foot in their midst. In honour of the battle we decided to name this sword the Guingate.
This sword has a decorative brass guard, the grip has a camel bone handle with a brass spacer. The blade is high carbon steel with a high center ridge of the original. The original price was 220 british pounds roughly $310. I want to sell this sword for $275 including free shipping to the CONUS. Please remember to keep in mind that shipping swords is now very expensive.
If have any questions, please feel free to contact me if you have any questions :D If you want any further pics, I can supply those as well. I accept paypal, My e-mail;
deltatheta35@gmail.com
thank You for Looking and have a Great Day.
---

Attachment: 47.7 KB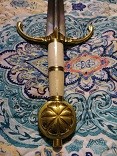 Attachment: 109.47 KB


Attachment: 106.51 KB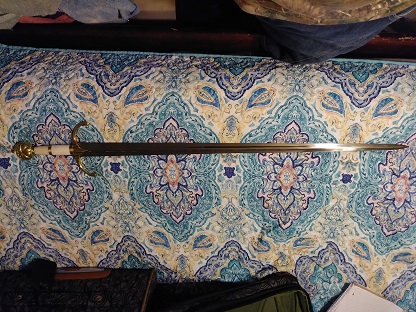 Attachment: 107.92 KB