---
Up for sale is this wonderful custom messer by Ollin Sword design.
This one features a pommel and a clipped point with three trailing scallops that references a classic extant bauernwehr (if I'm correct, this was sold from the Princely Collection of Liechtenstein, Schloss Vaduz, at Christies, London, November 20, 1991, lot 62 - will post an image for reference).
As a one-of-a-kind piece from a maker no longer producing swords, this one is both beautiful and rare.
I'm the second owner and have not cut with it; the first owner did some test cutting and reported a good cutting profile, but a small edge knick. I can barely see it, but will include his photos in case that's helpful.
The scabbard is by Russ Ellis at Tritonworks. This is fairly thick and not particularly historical, but protects the blade and is complete with a belt.
Specs as per Ollin:

Weights & Measurements
Weight: 2lb 3oz
Over All Length: 30 3/8"
Blade Length:23 3/4"
Point of Balance
: 3 1/4"
Center of Percussion
: around 15"

Materials
Blade: 1075 Steel
Grip: curly maple
Guard: steel
Pommel: steel
This custom messer and scabbard package is US$800 plus shipping at cost from New Zealand via NZ Post's International Courier, which is both reasonable and fast. Payment is via PayPal.
I have the original wooden box this messer shipped in; it's a little heavy, so I'm happy to either ship it in the box for completeness of collecting, or in a cardboard box to save on shipping - your choice.
Please PM if you have any questions!
---

Attachment: 65.77 KB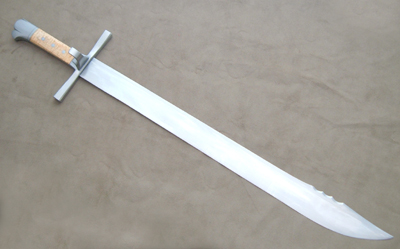 Attachment: 97.92 KB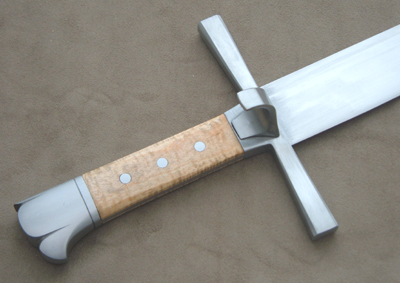 Attachment: 44 KB