Howdy all,
Its my first post here, I hope I am posting in the correct area. Please excuse my ignorance if I made some mistakes, and my spelling if it is off here and there...
I have been fascinated with medieval weapons and armor as long as I can remember, and as I got older, I got into wooden swords first, then bows, as they were appropriately made of wood, then recently into knife making and forging stuff in general and lately, the viking age came to be my main focus...
I made a viking
shield
, and then an axe to go in pair with it, just for fun. I havent followed any historical measurements or materials, it was just out of curiosity. But now I intend to change that.
I wanna make full set of historically accurate viking armor including a shield, spear, sword and two axes, one small and one large, dane axe its called i believe?
I have some wood drying for shafts, more is on the way for the shield, some iron is ready for the shield boss, the spear is in the process of beeing forged, the axes are a bit problematic because of forge welding, especially the big one, but Ive got it mostly figured out, just the work remains.
The blade is a different story, as I will explain now...
I was designing my future viking sword, based on Albion Hersir I think it was, in solidworks, I even made it so I dont have to worry about
distal taper
because it will be grinded in automatically when I add my bevels...
And then I noticed that my bevel angle ends up beeing 27 degrees, or 13.5 degrees per side and that seems to be a bit too much for a sword designed for cutting in my opinion. But I know nothing about this, thats why I came to all you guys for help.
So, my question is, what angle shoud my main bevel be for a viking sword?
I understand that those angles werent the same from sword to sword, type to type maybe, but what is the range I need to aim for when designing and later making a replica viking sword, with no specific type in mind?
I have the same question for a viking era spear with 250ish mm long blade and that last swelled out part of a dane axe that comes to a sharp edge, but my concern is the sword mainly, because Im the least familiar with them.
Thank you all for your help, as it would mean the world to me, cheers!
P.S. Here are some pictures of the blades to illustrate what I have in mind. I would post for the dane axe as well, but I havent modeled it yet.
---

Attachment: 20.61 KB


Here you can see my current bevel angles for the sword

Attachment: 16.01 KB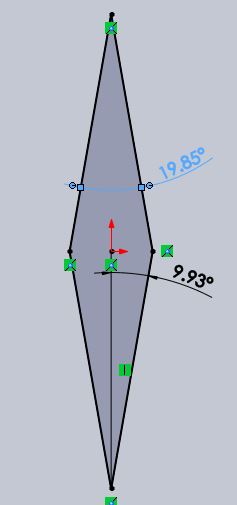 Here you can see my current bevel angles for the spear