---
Selling some bits, please contact me on here or my email at
knightofengland@hotmail.co.uk
Payment to be made by paypal, shipping at cost! I'm located UK but will post worldwide.
Good Quality Leather Medieval Turn Shoes to fit a size 9 £150
Lovely Pavel Mok Round Pommel Sword in Hand Stitched/ Dyed Leather Scabbard and Belt £350
Good Quality Ash Wasters x2 and Bucklers set x2 brand new and unused, perfect for training/ hema etc only £150 the set.
Stunning Hand Forged Spangen Helm was made for a display museum in sweden, very authentic finish and unworn very nice and will fit any size head. £300
Large Sized Nasal Helmet Mild Steel Welded with nice authentic finish Brand new, there are two of these are available. £120
---

Attachment: 24.7 KB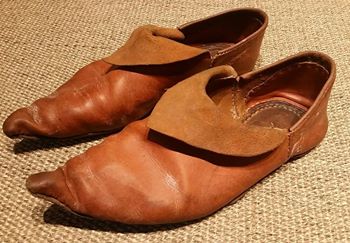 Attachment: 217.2 KB
[ Download ]


Attachment: 74.28 KB
[ Download ]


Attachment: 51.91 KB
[ Download ]


Attachment: 66.82 KB
[ Download ]