---
Hello All,
Up now for sale as I thin out my collection is some excellent daggers.
The first an Angus trim Dagger with Scabbard
(Scabbard and handle was done by the fellow whose in the military, does great work for a great price but had to shut down because he was sent away to war? cannot for the life of me remember his name)
Angus Trim dagger
Peened
Total Length: 19.5"
Blade Length: 13 "
Handle Length: 6.5"
$425 plus shipping or best offer
Arms and Armor #130 Crusader Dagger
An early style of dagger seen from the early crusades to feudal wars of the northern reaches. Circa 13th Century.
Overall length: 13 1/2"; Blade length: 9"
(original price $220 + $23 shipping and handling)
$120 plus shipping or best offer
Arms and armor #216 Aunlaz dagger
Original: 14th C., Royal Armouries, Leeds, possibly English
Overall length: 12.75"; Dagger blade: 9"
(Original price $235 + $23 shipping and handling)
$130 plus shipping or best offer, comes with a rather bulky wood core and leather wrapped scabbard
Darksword Danish Dagger
5160 High Carbon Steel
Fittings : Mild Steel
Total Length: 18″
Blade Length : 12″
Weight: 1 lbs
http://www.darksword-armory.com/medieval-weap...gger-1815/
its all black with black scabbard
(original price $175)
$80 plus shipping or best offer
thank you for looking
---

Attachment: 24.34 KB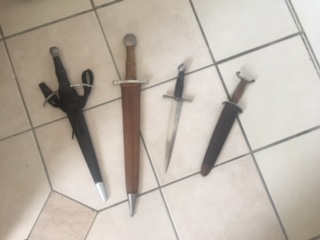 Attachment: 21.11 KB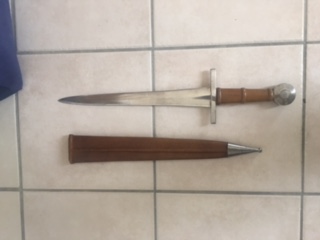 Attachment: 19.25 KB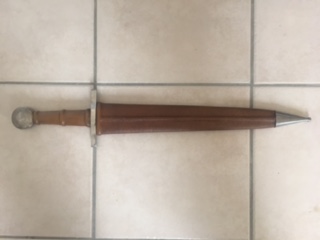 Attachment: 24.72 KB