Review: Pavel Moc Federschwert
Hi guys,
Not really a "historical arm" in the strictest sense but I think it is still a relevant topic I believe. Also, there have been very few (if any at all) reviews of a feder here before if I'm not mistaken so maybe people will find this interesting.
So here it is, my review of the Pavel Moc Federschwert/Fechtfeder.
I did not purchase this piece but won it at a recent HEMA tournament so I'm essentially reviewing a "freebie". Just keep that in mind. The current price for this piece is (as far as I know, it is not listing with price on the maker's website) around 350 Euros. That is on the upper end as far as prices for feders are concerned but it is quite obvious what that extra money went into.
For those that do not know, feders or Federschwerter were and are used as training tools in historical fencing. It is a much debated topic when the first feders were used historically. The first depiction I am aware of is from 1452 and shows Master Liechtenauer holding such a training device in the fencing manual "Peter von Danzig".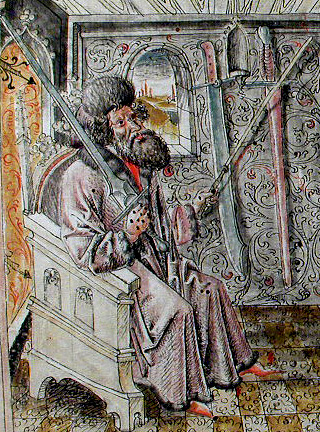 The existing originals (that could be replicated) are all dated to the 16th century or later. So it is an ongoing discussion what kind of training tool would be most appropriate for the late medieval fencing in the Liechtenauer tradition. We know they had feders but not of what exact shape, weight, etc.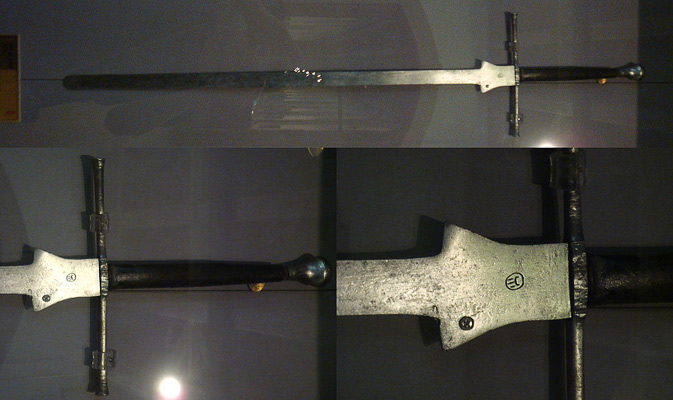 For the later period manuals such as Mair, Goliath, Paurnfeindt, Meyer, etc there is no discussion as we can use reproductions of original feders from that time period.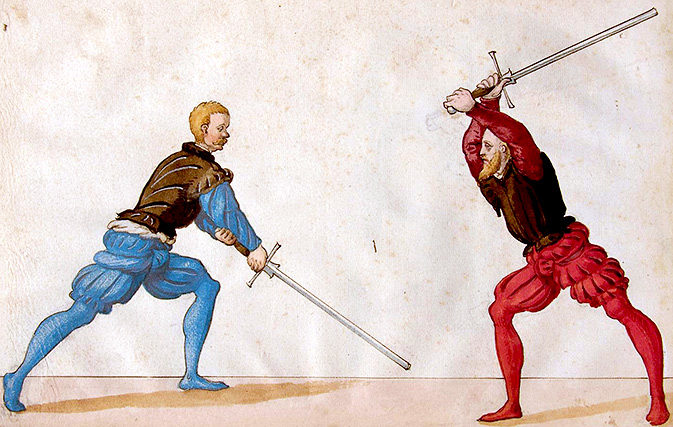 The Pavel Moc federschwert is one such later feder. It is not based on a specific original as far as I know but from its shape and size it is obvious that it is most suited for fencing in the later style. That doesn't mean it can't be used for the earlier fencing but it may not be ideally suited for it.
Now, onto this piece:
Stats:
Overall length: 139.5cm
Blade length: 101.5cm
Grip length: 32cm
CoG: 4cm
CoP: 67cm
Forward pivot point: past the tip actually when gripped right above the guard, at the tip when gripped behind the first riser (as intended I assume)
weight: 1.9kg
As is obvious, this is a big piece of steel. Here you see it next to my Albion Munich which is by no means a small sword.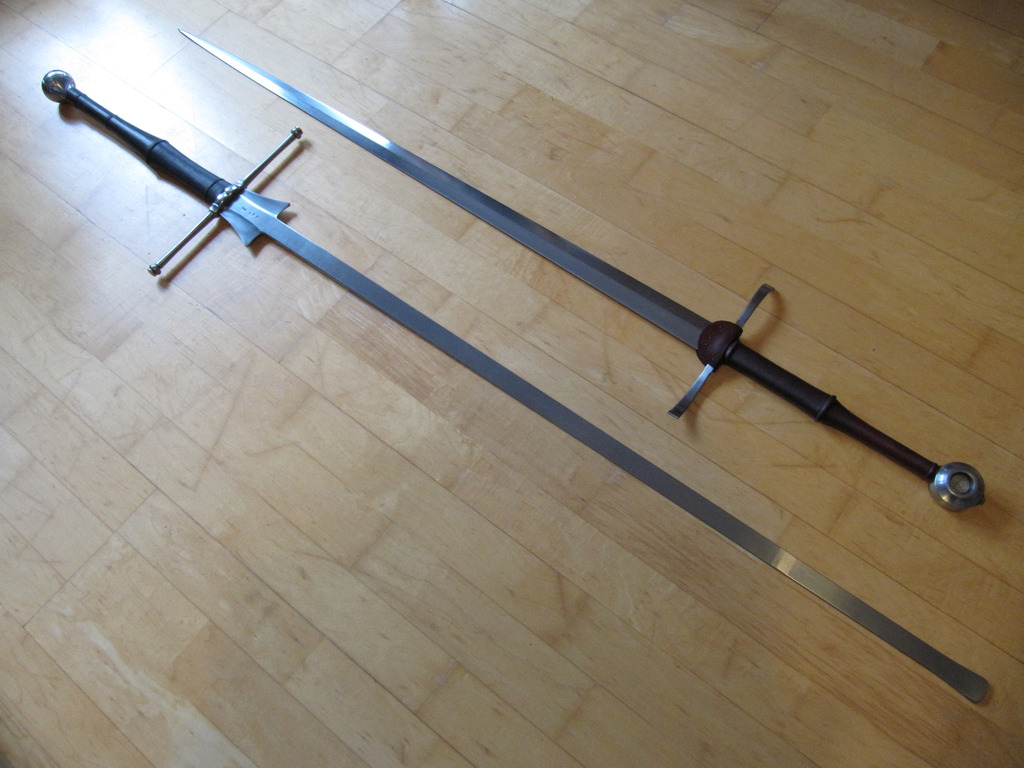 It is also quite heavy, due to the large size. But more on that in the handling section.
Aesthetics:
This is without doubt the most beautiful feder I have ever seen. The finish is excellent, all components are shaped cleanly and harmoniously. There are almost no grinding marks present and the overall finish is very even. The little bronze accents at the guard ends are a beautiful touch. The leather grip is very nice (a rare thing on a feder) though also the only think to nit pick: the transition from grip to pommel would be nicer without the step in profile.
Overall a gorgeous piece.
Handling & Performance:
This is the biggest and heaviest feder I have ever used. I usually fence with a Regenyei standard type B which is 132cm overall. The 7cm make a very noticeable difference I've found. The Regenyei is also 700g lighter (some say it's too light). All the more astounding that the Moc feels only slightly slower than the Regenyei. The Moc turns with little effort, flows wonderfully through fencing techniques and can be stopped on a dime. On paper it does have a considerably closer PoB that the Regenyei (4cm on the Moc and 7.5cm on the Regenyei) but as the Moc is very clearly not meant to be held right below the guard but instead behind the first riser, the difference disappears if you add those extra 3cm. Not to mention that I don't like interpreting much at all into the PoB.
The considerably longer handle on the Moc makes a difference though and I think that is one main reason why the much heavier Moc handles almost as quickly as the lighter Regenyei. While it handles like a lighter sword, it still weighs 1.9kg and over time, that weight becomes apparent. I did tire significantly faster than with the lighter Regenyei but that is not necessarily a bad thing. The other thing I noticed what that even though the Moc isn't sluggish at all, the additional length and weight led to more fighting from the bind and less Abnehmen/Zucken/Umschlagen/etc. That's not a bad thing either, potentially even a very positive aspect but either way noteworthy.
Here are the Moc and the Regenyei side-by-side:
Overall anyway I am really quite impressed by the handling characteristics of the Moc feder.
Another difference to the Regenyei is the flex. The Moc is a good deal more flexible. I don't think it's too flexible but if it were any more flexible, it would be. The flex is located largely in the foible (as it should be), so the fencing from the bind doesn't suffer too much as it often is the case with more flexible blades. Of course, the additional flex of the Moc makes thrusts considerably safer and also takes out much of the punch the 1.9kg piece would otherwise pack in a blow.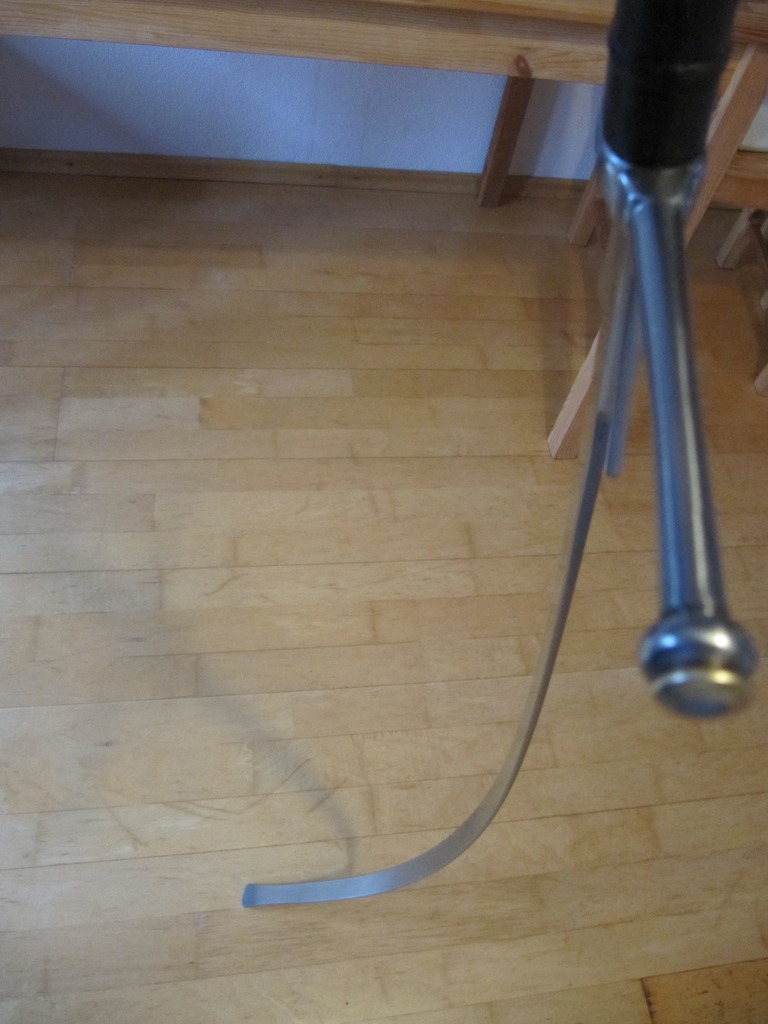 One thing I could see improved is the grip's circumference. It is just a tad too thick for me. Once I've done some more fencing with it, I might do that though it would be a shame to rip off the nice leather wrap.
As I was able to compare my feder to an earlier feder of the exact same model, I can say that the guard on the newer version is a bit more massive. That is a very good thing as there have been numerous accounts of guards bending and breaking. So kudos to Moc for listening to his customers and making improvements.
Now for the one main thing that may unfortunately ruin this piece: I have only done one sparring session with the feder, a slow round against a Regenyei standard and a more intense match-up against another Moc feder of the exact same model. In the second fight, my feder sustained a rather massive notch in the foible close to the tip. It looks like a little round piece broke out. The remaining notch has quite sharp edges. I can't say for sure but to me it seems like the heat treat may not be ideal, with the blade being possibly a bit on the hard side. Further testing will need to be done to confirm this. First I need to file out the notch though.
It should be noted that the other Moc feder I was fencing against showed no such nicks.
That one notch is the only significant damage, the rest of the edges are intact except for some minor scuffing and other absolutely acceptable wear. Maybe it was just an unlucky hit but I'm a bit sceptical now.
Conclusion:
Aesthetically, this feder is a wonderful piece. The handling is very convincing as well. If it weren't for the potential durability/heat treat issue, I would be very happy with it. As it stands now, I will most likely use the piece mainly for drilling (where the additional weight is very beneficial for training purposes) and maybe light free play. If it holds up well, I may give it another go in harder sparring. Right now I'm hesistant as I don't want to ruin a beautiful piece without any need and since I didn't buy it, I don't think I could make any warranty claims or such regarding a potentially faulty heat treatment.
Thanks for reading! Comments & discussion very welcome.