---
Folks,
I have a basket-hilted cutlass made by Bruce Brookhart available. It's in excellent condition. I have only displayed it, and I am the first owner. I think this is his proof-of-concept for the Museum Replicas Scottish cutlass, but I'm really not sure. I believe it's an older Del Tin German Dussack blade (the current version is wider and has fullers) mounted with a
schiavona
basket, but the blade isn't marked and I can't be sure. The quality seems better--the shape is more precise and more regular--than a Windlass blade would be, but that's just my impression, and Mr. Brookhart could have refinished a Windlass blade. The basket is riveted, and one of the rivets near the blade is missing; it came to me this way. The tang is ground flush over a nut; I don't know whether it's peened, although I believe it is. There is no scabbard. I'm offering it for $300 shipped in the continental U.S., which is what I paid for it less shipping. Shipping elsewhere is negotiable. No trades, please. Please note that I prefer postal money orders or checks to PayPal, and while I'm willing to cover shipping in the U.S., you'll have to pay the 3% PayPal fee if you prefer to pay through them.
The measurements are:
overall length: 30 5/8"
blade length: 24 7/16"
grip length: 3 3/4"
blade width: 1 13/16" (straight section); 2 1/16" (widest point)
blade thickness: 3/16"
guard width: 5 1/4"
guard depth: ~6 1/8" (front of knucklebow to end of quillon)
point of balance
: ~3 1/8"
forward pivot: ~13 1/2"
weight: 3 lb. 5 1/2 oz.
Please PM if you're interested.
Best,
Mark Millman
---

Attachment: 61.93 KB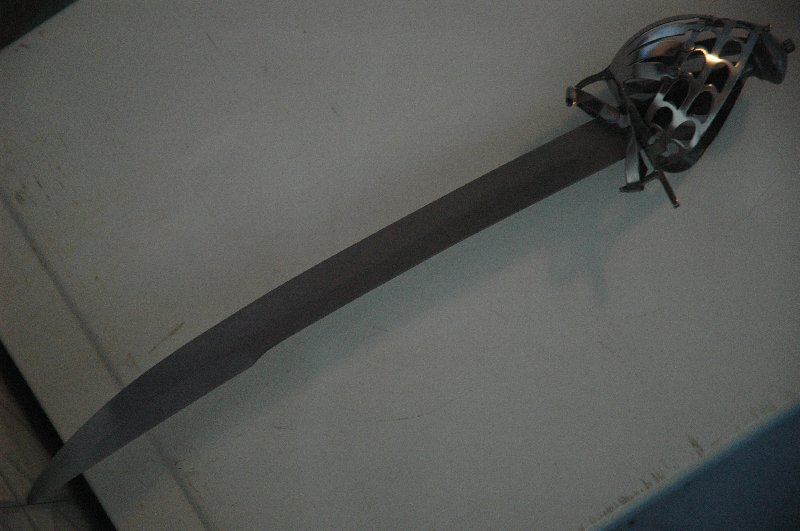 full-length obverse

Attachment: 61.23 KB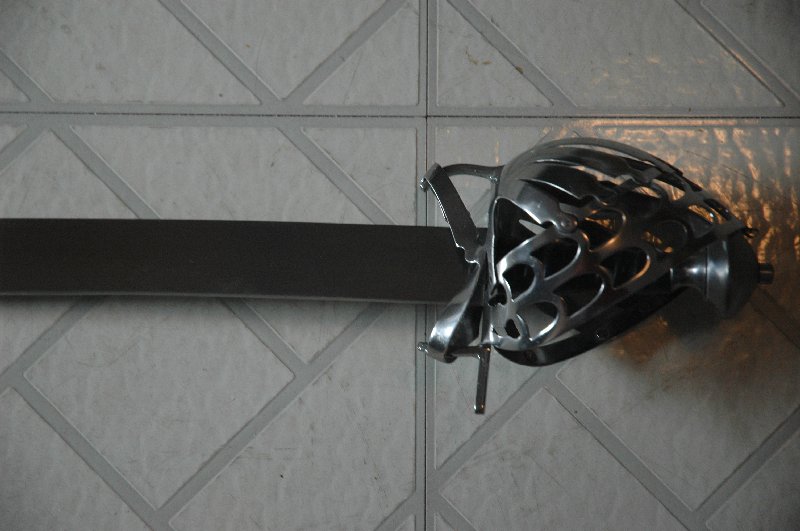 guard and forte obverse

Attachment: 45.58 KB

mid-blade and tip obverse

Attachment: 56.99 KB

guard and forte reverse

Attachment: 48.86 KB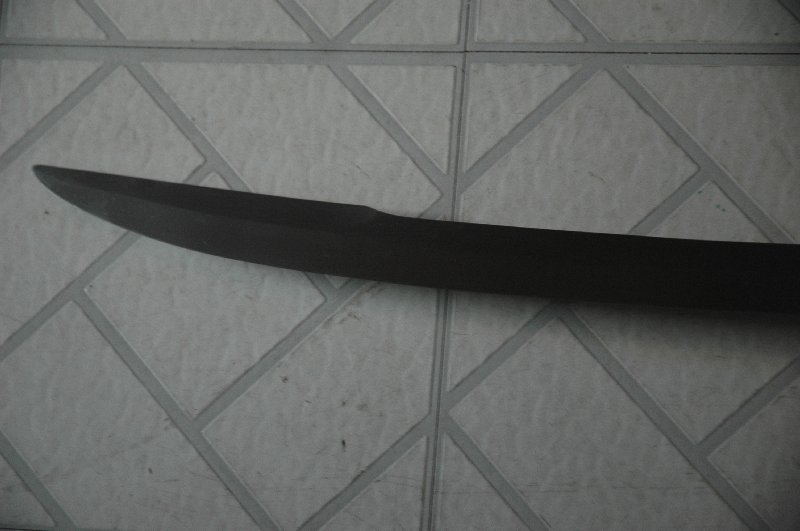 mid-blade and tip reverse

Attachment: 59.64 KB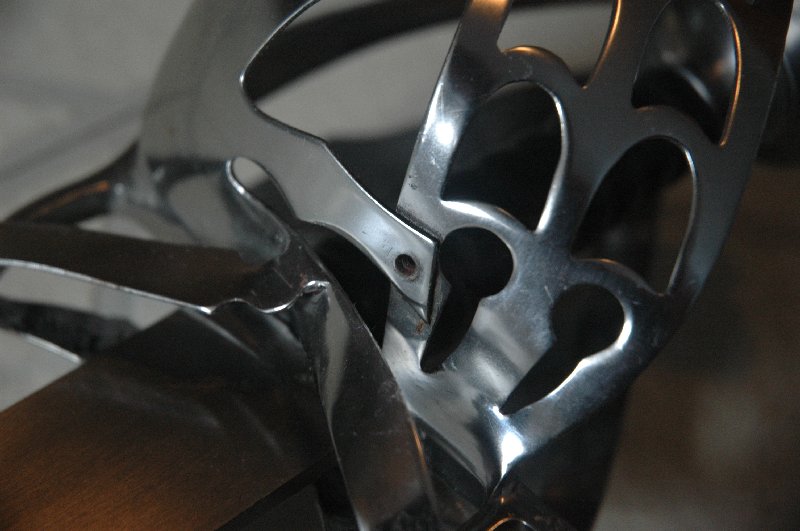 missing rivet in basket

Attachment: 69.08 KB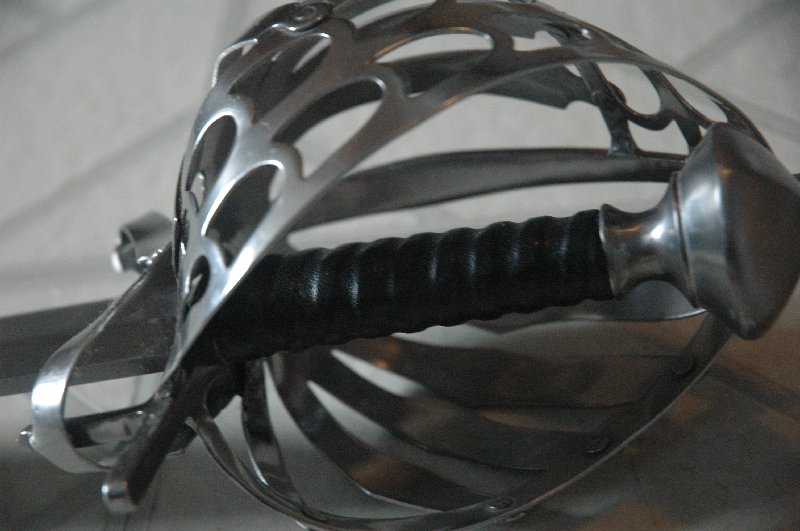 interior of guard and grip

Attachment: 66.64 KB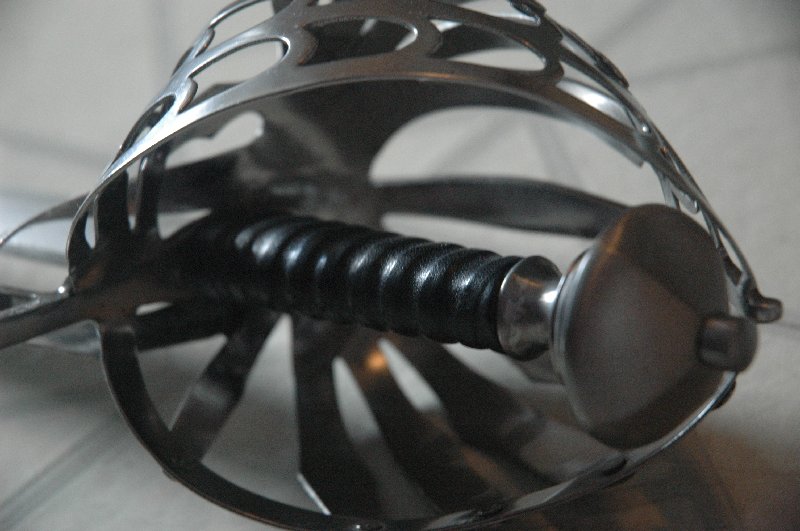 interior of guard, grip, and pommel

Attachment: 57.77 KB

front of guard