---
For Sale: Customized Ronin Dojo Pro wakizashi (NL, EU)
Nagasa: 51.8 cm (+ 1.8 cm habaki)
Tsuka: 12.6 cm
Blade: 1060 steel, through hardened.
Started out as a Ronin Dojo Pro katana which was shortened to wakizashi length.
The blade and saya are of the original sword, the fuchi is from Namikawa Heibei, the rest was made by myself.
The tsuka core is made from tulip wood which is supposed to be similar to Japanese honoki wood (low sap content). The tsuka core was epoxy bedded to get a perfect fit with the nakago (I always use Devcon epoxy).
Being epoxy bedded you won't have the typical fear of a cracked tsuka core due to improper fit and therefore improper stress distribution.
Because of how much the blade was shortened it was too difficult to drill a proper nakago ana in the new nakago, I was left with one small hole all the way through and two more than went pretty deep but not entirely through. Therefore I decided to put the handle on and fill up the holes with epoxy, thereby mechanically locking the nakago into the handle semi-permanently, basically making a fixed mekugi with epoxy. If you remove the wrapping and drill out the epoxy-filled holes you could disassemble it as usual.
Since I shortened the blade I also shortened the saya, I was planning on making a new koiguchi but never got to it.
The kissaki has your typical counter-polish. The saya was damaged when the sword was shipped to me, it's properly repaired but you can still see the traces.
Habaki is made of Devcon epoxy, tsuba and kashira are made of black painted steel.
The wrapping is special water-proof anti-slip tape. It gives a much better grip than any kind of ito I've ever tried but it doesn't feel rough to the hands and it doesn't give so much resistance that you can't change your grip.
Some of the pictures were made when I was still in the process of making the kashira but it gives a nice
cross-section
al view of the handle.
Price: 175 euro.
Sword will ship from The Netherlands but is also short enough to be shipped internationally.
I accept Paypal and bank transfer.
If you buy this sword together with my Bugei 5160 Samurai OR customized SBG ko-katana I'll give free shipping inside of Europe (worth around 30-35 euro).
If you buy this sword together with both my Bugei 5160 Samurai AND customized SBG ko-katana I'll give you another 35 euro discount on top of the free shipping inside of Europe.
Not really interested in trades unless it's an
Oakeshott
type XIV/XVI/XVIa/XIIa-ish sword/blade.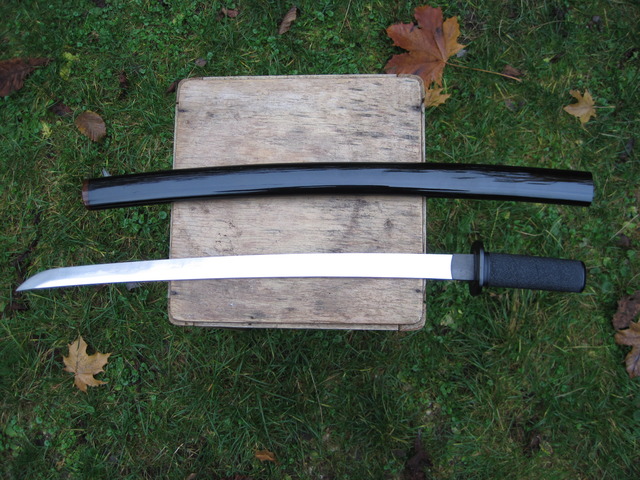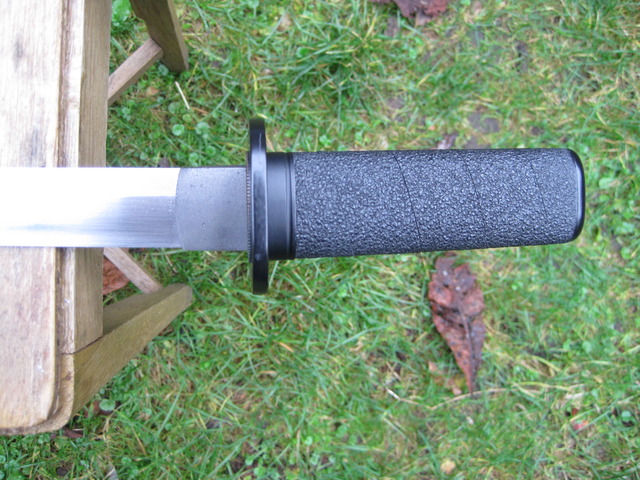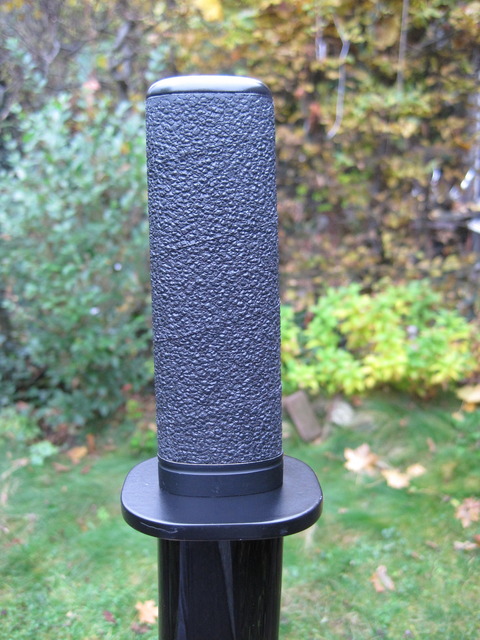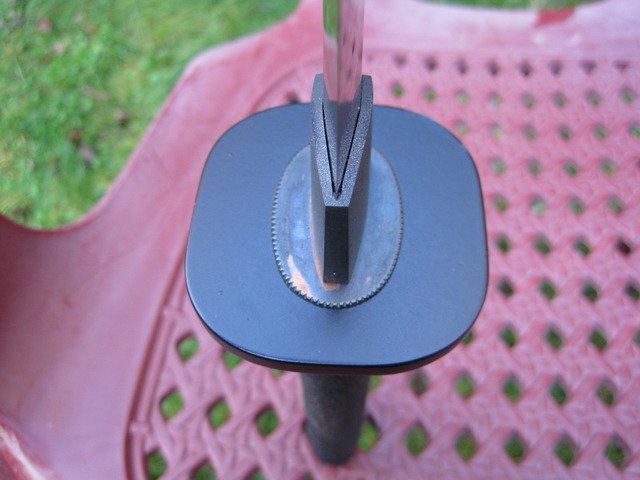 All pictures can be found here:
http://s495.photobucket.com/user/LewisPhotoB/...amp;page=1